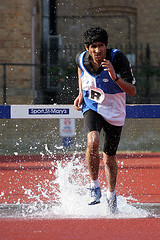 The first event of the 2007 Southern Mens League athletics was held at St. Mary's Richmond Athletics Club on Saturday 5th May. It was a very relaxing afternoon spectating the vast number of events taking place.
After running 5k in the morning and swimming 30 lengths of the local 25m pool, it was time to take it easy before the Sutton 10k on Sunday.[
](http://davidrowe.co.uk/photos/72157600180904672/)Photos are online at our photo site.