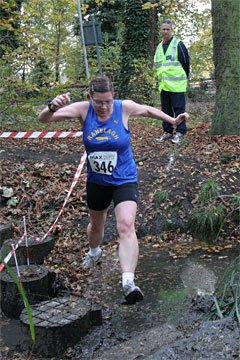 Today was the second ladies race in Division 1 of the Surrey League Cross Country series for 2007-2008. David and I watched the first races (womens and mens) a few weeks ago and today I took part in my first Surrey League race.
The race was held at Cranford Park (right by junction 3 of the M4 motorway in west London) and it was a very flat grass course, with a little stream in the middle to add a little variety. It was a two lap course - a total of about 3.5 miles.
I was last Ranelagh home (that's OK, don't feel sorry for me!) but that's only because the slower runners seem not to take part in events like this - perhaps they don't want to be last? There were lots of people still behind me and I had an excellent finish, making up a good few places over the last half mile or so. The only downside to the race was going straight to work afterwards…
Results are available for the Ranelagh Harriers runners and a number of photos from todays race can be found at our photography website.