Once again an entry written by both Sharon and David, starting with David…
After last weekends half-ironman distance triathlon in Wales last weeks running was simply a couple of easy runs and yet more carb-loading in preparation for another trip to Wales - this time as part of The Stragglers running club team who were taking part in the Welsh Castles Relay event. This is the 26th running of this relay race, which starts on Saturday morning at Caernarfon Castle and finishes late afternoon on Sunday at Cardiff Castle. There were 58 teams taking part with each team fielding 20 runners. Add on top of this reserve runners, drivers and general supporters (and the race officials) and you've probably got up to 1,500 people following the race.
"Ten (approx) ten mile races, back to back. Then another ten the following day. Held over the second weekend in June, the Welsh Castles Relay is a team event, but each stage is a head-to-head race. It is not strictly a relay: runners do not pass a baton to team-mates; and each stage is a self-contained race."
"Seen from space, the distance between Caernarfon and Cardiff is not all that great, however, the country between the two is Wales, and every stage includes at least one climb or descent. Taking a cue from Le Tour de France, the toughest stages are designated as 'mountain stages' and the winner of each stage gets a yellow (or occasionally grey) sweat shirt."
We drove up on Friday evening after stopping en-route near Warwick for some dinner and eventually got into our B&B in Newtown (right in the middle of Wales) shortly before 11pm. Saturday morning greeted us with blue skies and a great big breakfast! Sharon, Kirsty and myself then jumped into our car (there were a few cars in our 'convoy') and headed to the supermarket for supplies, which included a large bottle of water and some plastic cups - to give to both our runners and also other people in need of water during their 'stages'.
We didn't plan to see the very start of the race at Caernarfon but we did want to see the end of that stage and start of the second one. This was situated in Penygroes, and we got to see Dave G. set off on his 9.4 mile leg, and a few minutes later watch Faye W. finish in the first stage. All the stages slightly overlap their start/finish times to ensure that event keeps to a reasonable schedule. Because of this there is lots of leap-frogging to be done and organising of runners and cars to ensure the right person gets to the right stage at the right time. On top of this you have somewhere in the region of 150+ cars travelling the entire route so you've often driving at slow speeds to get from one place to another.
When supporting our runners during a leg the general idea is to drive ahead of them (hooting your horn and screaming support from the car window as you pass them), find a lay-by or side road up ahead (that isn't full of other supporters vehicles), get out, prepare a few cups of water, wait for your runnner to come past, jump in the car and do it all again. This is the general idea of how things work for the two days. It's manic, great fun and you get to see what seems like an endless running race across the length of Wales.
Kirsty was down to run leg 4 which started from Mentwrog at 13:30. We got there with plenty of time to spare to allow Sharon and I to relax and have some lunch (which we bought earlier at the supermarket) whilst Kirsty got ready for her leg (which basically involved a visit to the loo and the application of sun cream). The sun was beating down on us and it was pretty warm. After her race started we headed back to the car and drove along the course to find a place to stop and support/provide drinks.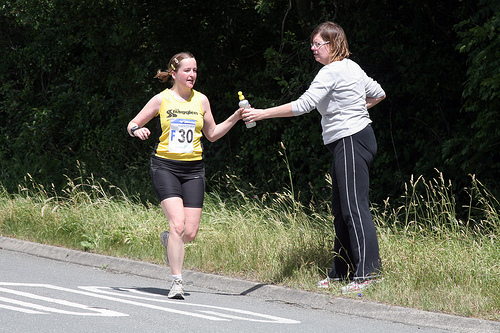 After Kirsty finished and got her breath back (just) we were straight back in the car to support Pat who was running stage 5. We saw her a couple of times whilst running then raced ahead to the start of stage 7 (Dolgellau to Dinas Mawddwy) - one of the 'mountain stages' - Danny was running. We watch them set off then (you know the drill by now) it was back in the car to go ahead and prepare a 'water station'. In the course handbook that we were given before the race there's an elevation profile picture for each of the stages - with the mountain stages being coloured red. Well, after driving the first few miles of the course we couldn't believe how hilly it was - it looked pretty horrific. The next thing I did was check the profile of my stage (which I was running a couple of hours later, at 6:20pm) and compared profiles! Lets just say I was in for a tough time. As we drove past Danny on the main uphill he was 110% committed to pushing up the hill and was working unbelievably hard. I don't think I've ever put that kind of effort in on a final sprint - let alone 4 miles into a 9+ mile race.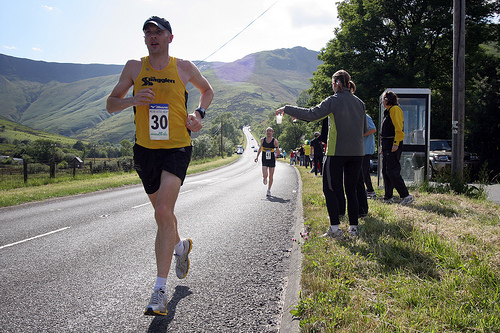 We drove straight to Llanfair Caereinion, the start of stage 10 but just got to cheer Suzie at the start of stage 9. We arrived at the car park, I got changed into my racing kit and proceeded to go for a warm-up - which would be very important as the first few miles are the toughest and I didn't fancy pulling/tearing anything early on! OK, when you're about to start a half marathon (this is the the longest stage - at 13.3 miles) it's not the greatest sight to see supporters eating fish-and-chips right by the start - especially when my dinner consisted of a lovely carbohydrate gel!!
After I was given this stage to run by the organiser of the event from our running club, everybody who knew about the Welsh Casles Relay said that "you've been stitched up". Apparently my stage is one of, if not, the toughest stage of the entire race and is likely to kill me! "Pah", I said! We'll see about that.

Whilst all of this is happening you're slap-bang in the middle of the (around 150+ car) supporters convoy - you get plenty of cheers and the cars don't get in the way at all (as they know you're running a race and want room and support). After about four miles the road then just undulates from here on in to about 11.5 miles and then it's much flatter to the finish.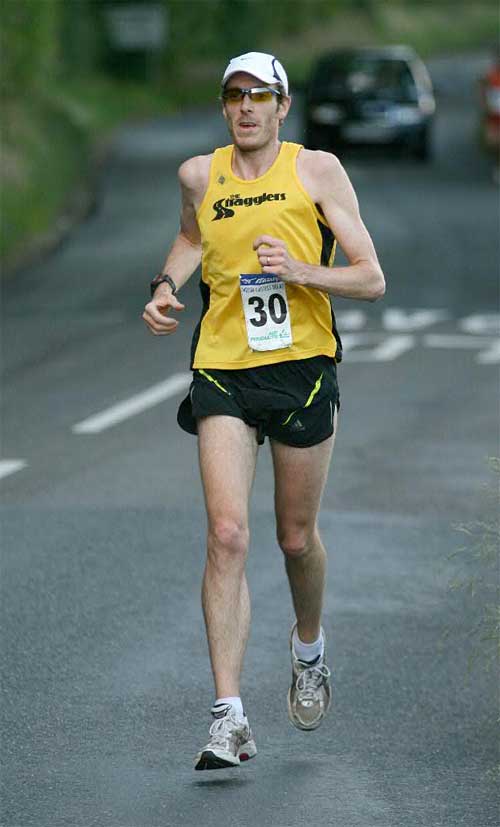 As I got to about mile 9 I started to get stomach problems - I've never had this before and I guess the 'incident' in the toilets before the stage was probably a warning of things to come. Every couple of minutes I'd get a cramp-like pain in my stomach and had to ease of slightly with the running. As our friend Kirsty wrote in her blog…
"We stopped for him a couple more times and he seemed fine until about 9 miles when he started to suffer with some stomach distress. He signalled this to us without speaking! We found this highly amusing, the supporters next to us did not. Clearly not runners."
Lets just say I did a lot of 'holding-in' during the latter miles. On many occasion rather than thinking about pulling over for water, I was looking at the foliage by the side of the road thinking that if I had to make an impromptu stop at the side, then I didn't want to be 'cleaning up' with a handful of nettles. I tell you, I was so so close to pulling over - and I couldn't care less that there were 150+ cars driving at 10 miles an hour a couple of feet away from me!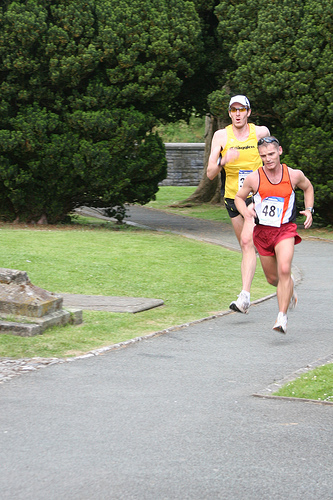 After composing myself I walked to the rest of our team who were at the finish - they were most impressed that I'd run well on such a legendary stage - and to clock a sub-1:35 half marathon on those hills and when not feeling great I think was pretty good going. After a (very necessary and rather urgent although the less said about it he better!) toilet trip we headed to the B&B so I could enjoy a cold bath, and then headed to a local pub with the rest of the team for dinner.
Sunday morning started with a 6:20am wake-up call, for Sharon and I had volunteered to help marshall stage 11 - which started at Newtown at 7am. I made sure Sharon knew where she and Kirsty were walking to in order to marshall their spot and then followed Danny in his car to where I'd be marshalling in this stage. At about 7:25am the runners appeared in sight and for the next 20 minutes or so I watched them run past whilst making sure no cars got in their way. At that time in the morning it was quite an easy job for me. I then headed back to the B&B for breakfast and then it was back on the road to support the final stages of the race.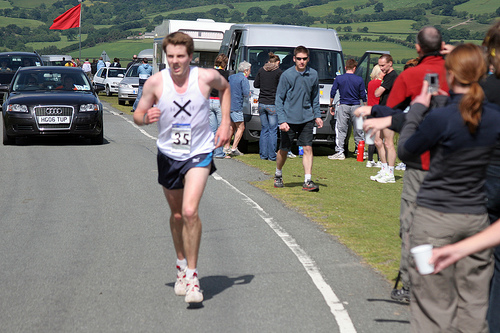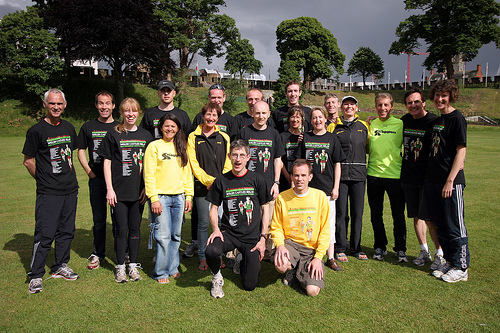 As I said at the beginning this was my first Welsh Castles Relay and one that I thoroughly enjoyed. The team spirit, the support, the atmosphere and fun was second to none. This is one event I certainly plan to do again.
Finally….as I write this on Tuesday evening my legs are truly shot to bits - on Monday I could barely walk down stairs and on Tuesday things were only marginally better. Stage 10 of WCR was one heck of an experience - and everything that people told me about the stage prior to me running it was true - I had indeed been "stitched up!!!"
Sharon here now with her regular "Supporters Column".
Another weekend, another trip to Wales. This time would be more intense I thought - and I was right. I was down as travelling reserve but I was not feeling in top form thanks to a sore throat gained at Bala the previous weekend, which seemed to be getting worse (and in fact still is but that's another story). By the time we eventually got to Newtown, tucked up in bed, it was pretty late and we were very aware we had a busy day ahead. DavidDaffyd has given details of most of the stages, so forgive any repeating.
Beforehand, I was thinking I might feel a bit useless - to be honest, I kind of did (most of the time I wasn't even taking photos). However, providing the vital superjooce for Kirsty (i.e. Lucozade Sport!) and water for Danny and David seemed to be my main tasks - as well as driving on Saturday so that Daffyd could feel reasonably rested prior to his stage.
Before Kirsty, we missed our team captain Steve running the first of the mountain stages. Blimmin hard it was too when we drove it on the way to Kirsty's start - which was billed as pancake flat. Hmmm. Nowhere in Wales is flat is my considered opinion. She had a good run - even in the unexpectedly melting heat and had a great battle! Pat then "stepped up" to run a leg at very short notice thanks to some logistical errors, again running an apparently flat stage. Once again, "Hmmm" to the supposed flatness! As we zoomed off to Danny's stage, I was feeling nervous for him. On the way, we shouted support at Roy (who won the coveted first Vet yellow sweatshirt on his stage)out of the car window.Danny's stage was so tough! The downhills were just horrendous…we leapt out of the car a few times to give him water/cheer him on. He did great and came 10th on his stage - but to see him finish I made Kirsty run up a hill. Sorry Kirsty.
By now, I was terribly terribly nervous for David. Since we got the stage assignments, people had been going on about the infamous Stage 10. Eeeek! We bibbled about a bit and I felt sick whilst David warmed up. I was even more nervous when I looked at the others who were running the stage. I would say that "wiry, fell runner" is a good description for most of them. Seriously scary looking runners! Before we knew it, they were off. The first few miles were awful. When we started to drive up the first big hill, Kirsty and I looked at each other and said, "Oh my f***ing God". I couldn't believe it, but we hadn't passed David yet - so he must have survived! It was tough to find a place to stop at first but then we managed to. My favourite moment was when David came by us and trumped. We laughed so hard - and apparently Daffyd couldn't drink his water he was chuckling too. The couple who were next to us supporting were, much like Queen Victoria, not amused. Unlike us. We could see David having battles with a couple of people around him but before we knew it, we were at the finish and waiting for him. He had an excellent sprint finish with a teeny runner (who we had seen pelting down a hill at one point, definitely an advantage to be little running downhill) and I was glad to see they were given the same time and same position, I think that was deserved. Somehow he survived (except his tummy!) and somehow he ate his dinner…which hasn't been done after that stage for a couple of years! Then off to bed again, knowing we had another early start.
We were up at 6:20 ready to marshall. Kirsty and I had quite a complex marshalling point, involving potentially stopping 3 sets of traffic, keeping runners to the left of a bollard so they didn't cut a corner, turning right and then keeping left once they had gone up the hill. Unfortunately the lead runner thought my holding the traffic back meant turn left, despite us shouting turn right. He soon realised it was right not left but shouted something at me…of course I shouted back that I was holding cars up (which I was, in two lanes). Perhaps I should have let him get squished? I also think that if a course has one turning point on it and you are going to be at the front, you might like to know where that turn is. Especially when it is about 200m from the start. Anyway. Graham was running this leg for us and we gave him a mini-shout as he went by and he finished in a fantastic 3rd place overall. Fabulous! We finished our marshalling, waved the runners off up the hill, spoke to our team captain in case the runner complained (also suggesting it might need 3 marshalls in case of traffic) and headed off back to the B&B via town to get some cash.
Kirsty and Daffyd spent the morning teasing me about having to run the infamous Drovers leg (stage 14) in case Chris couldn't…I said I would have run it, but would have missed the cut off! I would have done it rather than get our team a penalty though. Fortunately I didn't have to. The first runner we saw was PG, who ran brilliantly and was 2nd in his stage. Awesome run and our best outright placing of the weekend. We then zoomed off to see Chris run Drovers. Wow. What a course. It doesn't look so bad at first, then just gets worse and worse. There was a battle and a half between the two leading runners, with a chap from Poole being eventually overtaken by one of our local rival club runners from Thames Hare & Hounds. Incredible running by Chris for us led to him winning a shiny yellow Vet sweatshirt - though the man doing the results said, "Is he really a Vet" - of course Kirsty shouted to him that he was.
After Chris it was time to see a couple of other runners, including Cecilia, Alanand Nigel. We periodically leapt out of our cars, setting up the impromptu water stations…I also rescued the 2 mile marker balloon from someone's garden on Cecilia's stage. It wasn't even on the course originally…they both ran really well. Cecilia looked like she was having a grand old time…grinning away for the camera! Nigel worked really hard and finished in a very credible 17th place on the last mountain stage of the day. We were soon enough in Cardiff in the grounds of the castle, awaiting the final stage runners. For us we had Hillary (our accomadation and dining organiser) running and she came flying in, looking a bit soggy though after the first rain of the weekend. There are no official results as yet but I think we were 22nd out of 58 teams (and 18th in the "Open" category). Our Kings of the Mountain (i.e. Steve, Danny, David, Graham, Chris and Nigel) were 10th - which considering the competition is pretty amazing!
My overall thoughts are that I loved the supportive atmosphere - though I do want a cowbell if I go again and some streamers to tie to the car! I loved leaping out and yelling at people. I was a bit stressed as reserve, as I know I am not fit at the moment - but I would have run if I was needed. I also really loved seeing all the fantastic runners! Given that I am often near the back, I don't generally get to see the really quick runners running (unless it is a lap course) and it's just awe-inspiring to see them literally flying along! Phenomenal standard of competitors.
Well done Stragglers! Now just to persuade Ranelagh that they want to enter too…that would make for even more supporting fun!
Finally, we took quite a few photographs this weekend, with our 'more personal set' found over at Sharon's gallery and a more generic set over at rowephoto.co.uk (Saturday, Sunday) - together with links to full resolution versions. Nigel Rothwell took some great photos (including one of the ones of me running above) and his full set are online at Flickr, as well as a set from Liz Souness - which includes about 5 or 6 photos of my stage).