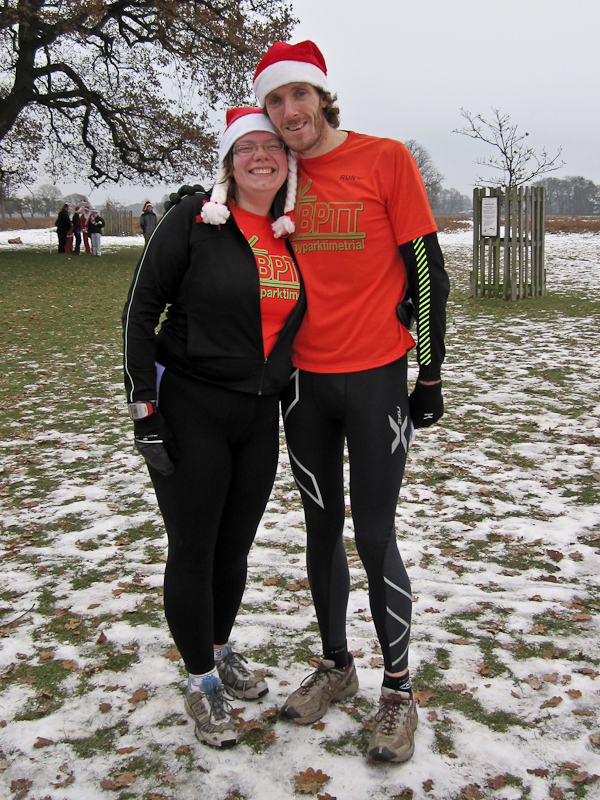 Christmas Day 2010 at Bushy parkrun
Christmas Day at 9am means Bushy parkrun - well at least is has done since 2006.
Last year I didn't run (damn injury) but Sharon did. This year we were both at the start - albeit not fighting fit!
Recent snow and ice had made the course absolutelytreacherous. The paths that make the 5km route had become sheet ice and completely un-walkable, let alone runnable. With the cancellation of a couple of other local Christmas Day parkruns because of ice this meant that the numbers at Bushy were going to be more than usual.
Over 530 people were lined up at the start in fine weather, apart from the freezing cold and ice underfoot! After a brief set of announcements we set off on our way - albeit cautiously - a theme that continued for the rest of the run.
I saw one runner almost slip just after 1km and another who was about 3 metres in front of me fell at about 2.5km. He soon got up, overtook me and stayed ahead of me so didn't come a cropper!
It was hard work on the snow and ice and my time of 19:33 showed that. Of the 531 finishers there were six runners who got new Personal Bests. Looking at Christmas Day 2009 where there were 414 finishers there were 27 runners who recorded PB's. Clearly the conditions were notconduciveto fast times.
Sharon 'slogged' her way round to her worst ever parkrun time, but finished with a smile on her face - and to be honest - that's all that matters.