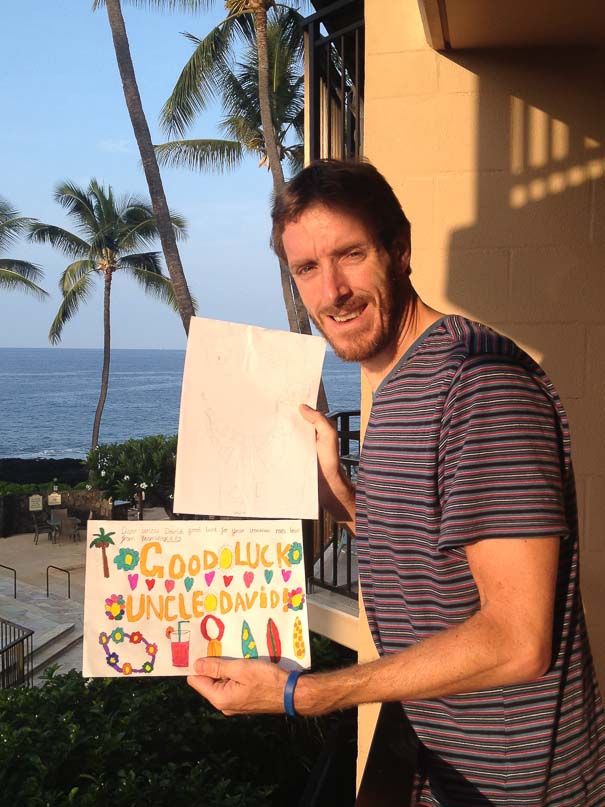 This is the second post for Friday and one I've been looking forward to writing - although it won't be very long. Over the past few weeks I've had so many messages of good luck from people, from the party that was thrown a few days before I left London through to a constant stream of posts on Facebook, Twitter, comments on this blog, text messages and emails. It's been overwhelming. I've replied to some but not all messages and for that I apologise - I'm just struggling to keep up with things right now. Anyway, they're lovely (especially the message I got from Hayden *hug*).
Tracking information…
I'll give you the UK start times.
Live video coverage starts at 5:00pm at ironman.com (6am Hawaii)
The professional men start at 5:30pm (6:30am Hawaii)
The professional women start at 5:35pm (6:35am Hawaii)
The rest of us start at approximately 6pm (7am Hawaii). A cannon fires and provided I don't get hit by any shrapnel then I'll be on my way!
If you are able to watch this in any way then please do. It's crazy.
The video stream will continue until midnight Hawaii time, which is 11am Sunday morning in the UK.
I got a good luck card from Chrissie Wellington as well - how cool is that…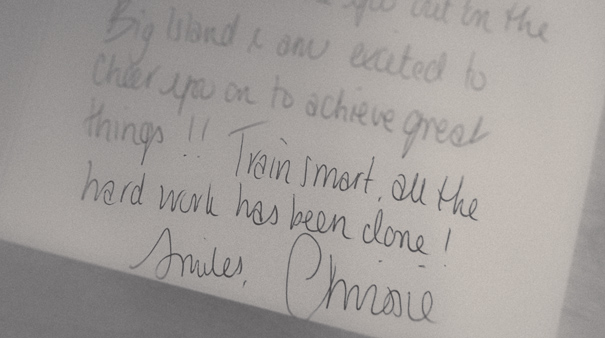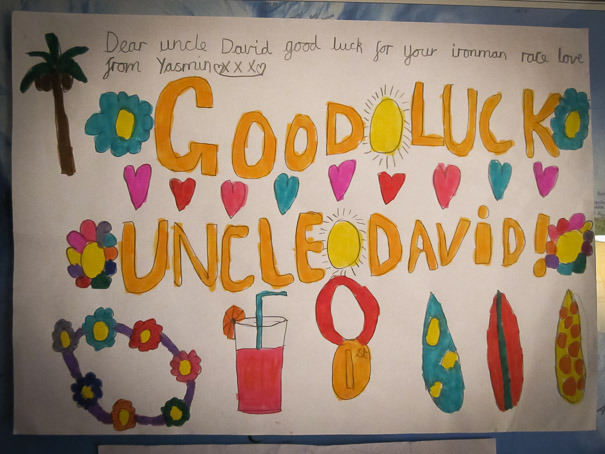 So… cards on the table… how would I like to do…
Just remember that I've not had the greatest run of training into this race. I didn't run a step for five weeks and only started (very briefly) again just under three weeks ago. I didn't cycle much at all until I got to Hawaii so thats far from ideal as well. However, my swimming has been going well and I did a 1:10 swim last weekend on practically the same course here in Hawaii.
I'd love to finish the swim in about 1 hour 10. The bike I have no idea about. Rough guess would be 5 and a half hours or so. Then there's the matter of the run. Will my foot hold up, I have no idea. Let's say just under 4 hours. Add some transitions in here and we're close to 11 hours (about 5am UK time). That would be amazing. As for the heat and winds out on the Queen K…. that could change things dramatically. Let's just wait and see shall we….
All I know is that I know people are watching online from afar and knowing this will spur me on when the going gets tough - and it will. Ironman is never easy on the best of days. This is going to be tough. Bloody tough. I cannot wait though. All I want to do is run down Ali'i Drive to the finish line proudly wearing my pirate kit. I will do it and I'll be the one with a huge grin on my face.
Bring It On. Get That Medal.
See you on the other side xx