Firstly, it never rains at the Bushy Park Time Trial. It *was* raining when we awoke at 6.45 but sure enough, the weather cleared up in time for the 9.00am start. I had a gammy foot today (courtesy of soreness from last week and then a "foot meets Tesco trolley" incident last night) but somehow the shoes were on and away I went. I am pleased to report that I got another PB this week (that makes 8 in 14 races so far this BPTT year) in a time of 31:25. That means I have shaved off 3:30 seconds since I started BPTT at the end of September 2006. I am currently 12th overall in the Ladies League but will soon by overtaken by a certain person who is trying to catch me (eh, Puff?! ;)). Thanks so much to the man at the muddy start who decided that it would be for the best to simply barge me out of the way (thanks to my trail shoes, I was able to stay upright but when I seem him next week, there will be trouble haha!). There is simply no need for that kind of behaviour although at least this week I didn't spot anyone cutting corners of the course and cheating!
The BPTT is just over the half hour for me and we leave home about 8.30am. However, we got home today at 12.30 thanks to going into Teddington for a "quick" coffee…it seems that the 30 minute run expands to take up the whole morning but it's great and the people we run with are a lovely bunch and have been very welcoming to a newbie such as me. Nero's must get cross at the mud we leave behind though…!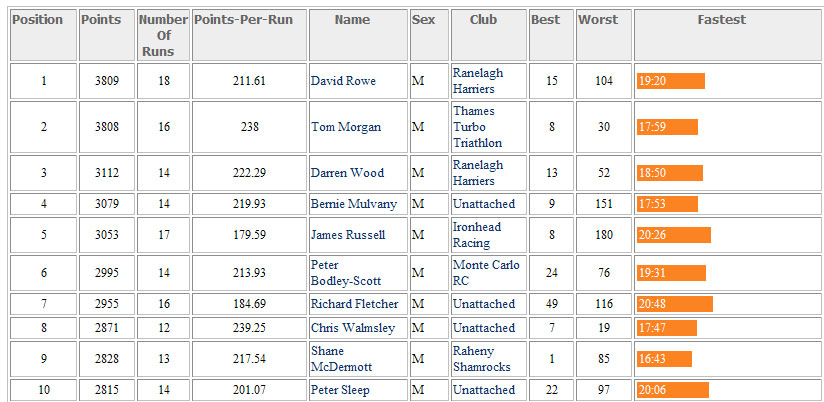 2007 Gents Points Summary
After being at the top of the gents league for the past few weeks, David's time on top is about to end. After today's race he's one point ahead of Tom Morgan, who will comfortably move into first place next week. We knew it was coming, and it was fun whilst it lasted. David's now keeping a close eye on 2005 league winner Darren Wood, who today clocked up his 100th race at BPTT. It's going to be exciting as the end of the year draws nigh…a few months to go until that though!