OK, I'm part of a new club - a club I hadn't thought I'd have a hope of joining until a few months time….. I'm now a sub-19 minute 5k runner! At BPTT on Saturday morning conditions were superb and over 300 runners took part in this awesome free (yes, free) time trial.
After a fairly brisk start (not the fastest first km) the pace stepped up a gear. As packs of runners started to appear I did my best to tag onto the back of a large pack of runners and make sure I didn't fall off of the back. At about 2.5km I was running with Darren (fellow club runner) and he said to me "is this faster than usual?", to which I was just about able to reply "It bloody feels like it" or something similar!
We continued running hard, in fact very hard and just before the final bend (leaving a straight of just over 1km) I'd edged past Darren and there were a large number of runners just ahead. Darren said something like "keep going" or "push hard" (I know I posted before that if you talk during a 5k race you're not trying, but the occasional word or two of encouragement is allowed) and that's what I did.
At around 400m to go I heard shouts along the lines of "don't look behind you…take them…keep pushing" etc., and that I did. My legs were burning and I managed to get past a few people in that final push. Just before the finish one or two people got past me but that didn't really matter. Oh, if the photo below works alright, I'm the one in the red. This is less then 10 seconds before the finish and it was truly a busy group racing to the line.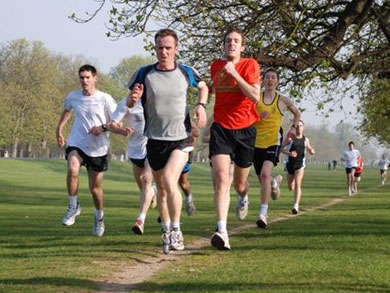 I could barely talk at the end because I pushed so flippin hard and my time showed it, 18:48, an improvement of 27 seconds (after my 5 second improvement the week before). I cannot believe that this was comfortably into the 18 minute range and I don't expect to be doing it every week, but if I can keep under 19:30 or 19:20 each week onwards I'll be really happy. Bring it on :)
Sharon is nursing an ankle injury but still managed to knock out an excellent 29:59, four seconds off of her personal best and just inside the 30 minute mark. Great stuff.