OK, after a three week enforced "go slow" due to other racing commitments, I decided to race BPTT this week, as I'm not racing till Monday (so only 48 hours rest this time!).
Now I remember why I don't really enjoy running BPTT hard every week - because it was tough. I pushed hard - had no idea what my time was like (there was no time to look at the watch) and just paced a solid hard run over 5k. I ran close to Darren till about 3.5k and always had Rachael in my sights (although there wasn't a hope of catching her - she's running brilliantly at present).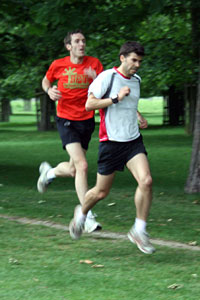 I crept past a couple of people before the final straight and with the end in sight carried on pushing hard. I got past one or two people and caught up with fellow Ranelagh runner Marc (see photo) to finish with the same time as him.
I finished in 31st place (out of 409) and my finishing time was 18:39, a PB (personal best) of one second (every second counts you know!). For those interested, my average heart rate was 176bpm (87% of my working heart rate) and my maximum was 189 (96%).
I'm really happy with this time (I was aiming for sub-19) and now that I've run four time trials with times under 19 minutes I can confidently say I'm a sub 19 minute runner.
My next target is to get under 18:30. Its only a matter of time.