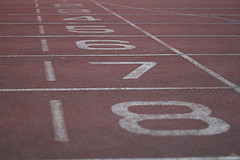 After getting home from work on Wednesday evening I jumped in the car and headed over to the Kingsmeadow Athletics Centre in Kingston upon Thames to watch the first of 2007's Rosenheim League athletics events.
They're very low key - you can just turn up and run - but I wasn't ready for my track debut yet - although it has been recommended to me as a way of getting some great speed training done.
I just went along to soak up the atmosphere and capture a few photos. Earlier on it was better as the sun hadn't set but once the sun went down my choice of camera lenses was reduced to one and I had to make do with that. Feel free to browse the pictures over at davidrowe.co.uk.
On Saturday afternoon I'm going to watch the Southerns Mens League event at St. Mary's in Teddington so expect more athletics photos to appear online over the coming weeks and months.