After last weeks rain the sun was shining today and this brought out the crowds. 359 people finished the race and it was good to see the founder of the race come and take part.
I (David) ran fairly strongly throughout and spent the final 3k's running out on my own (yes, nobody who's about two feet shorter than me to draft off of!). One chap got past me just before we entered the final straight for home (which is just over 1k long) although I did creep past two guys about 30 seconds from the finish.
By my watch I made it 18:41 although the official time is currently down as 18:49. There were a few timing issues today so I'm going to stick with my time today. 18:41 is only seven seconds off of my personal best so I'm very happy with todays time.
Its funny, last week I finished in 18:51 and came 17th - today I was 10 seconds quicker and finished in 30th. Surely it'll rain again soon…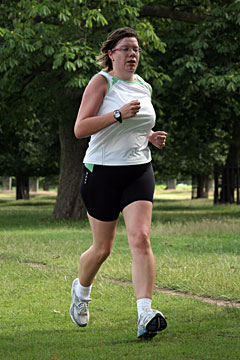 Now its over to Sharon….
I had a reasonable run considering I didn't feel great this morning (and feel worse now, thanks to whoever it was who gave me a cold…). I finished in 29:39 according to my watch (30:35 official time though, timing issues as David has already mentioned) which I think is my 6th time under 30 minutes. I reckon I can officially say I am "sub-30" 5km runner…now to make it a sub-29 minute 5k!!
Next week we'll both be taking it easy as we're running a 10k race on the Sunday.