Apologies for the non running nature of this post…
Rather than go for a long run on Sunday morning (my mileage has been very low this week as I've been suffering a bit from injury - although on Saturday it pretty much went away following a trip to the physio) I decided to make the most of the opportunity and watch the start of the Tour de France.
Five of us met up in Twickenham at 7:30am (yes, on a Sunday - I never have a lie-in) and cycled to Putney to pick up another rider and then we headed into central London. Central London wasn't our destination, it was a little further east - Greenwich - for the main start of the race.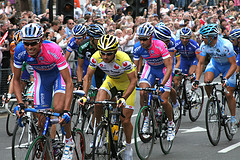 After waiting for the "caravane" - a mile-long convoy that offloads sponsors' gifts - of which 1) we only just about got some, and 2) they were tat! - we waited for the bikes to come past, and once the bikes and support vehicles had sped past, we cycled to Hyde Park.
With roads still closed to cars we were able to cycle pretty much uninterrupted the entire way with no cars and lovely clear roads taking in sights such as Tower Bridge and embankment (which form part of the London Marathon route).
After lunch and a wander around Hyde Park (there was a big festival thingy taking place) we cycled back to Twickenham, taking the long way round Richmond Park (I'm still not sure why).
The upshot of this was that after leaving home at 7:30am I returned back at 4pm, extremely tired from cycling over 43 (yes, 43) miles. The problem is I still felt like I needed a run so put in a 7 miler.
What a way to spend a Sunday.
The week ahead should be pretty busy as well with a 5 mile race on Tuesday night, BPTT on Saturday and then the Elmbridge 10k on Sunday.