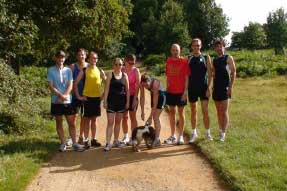 On Sunday morning a small group of time-triallers (Peter, Chris, Orlando, Kirsty, Sharon, Tim The Dog, Jo, Danny, David and Marc), under the watchful eye of "PSH" (Mr Time Trial himself) ran the course of the new member of the Park Run time trial family - the Richmond Park Time Trial.
The course starts next to Bishop's Pond on the outer path of the park (near to Richmond Gate), then follows round in an anti-clockwise direction on the tarmac path down Sawyers Hill to the roundabout. You then turn left onto the grass - heading towards Sheen Gate and before you get there you turn left and back onto the path. The path heads uphill all the way back to the start (with a few twists and turns) - which you pass and start retracing the first (slightly uphill) part of the course until the finish line, which is just before you turn back onto the tarmac path to head down Sawyers Hill.
Compared to the Bushy Park course I'd say this one is certainly tougher, because of the surface and undulations. I'm looking forward to having a proper go at this course once the time trial starts proper in October but for now I'm pleased to have been given the opportunity to get a preview of the course.
More information about the Richmond Park Time Trial can be found at the Park Run website.