Saturday was the day of the Bushy Park Time Trial 3rd Anniversary. Three years ago 13 runners decided to run round Bushy Park and its grown into a monster! Today there were just under 600 runners taking part in this fantastic free 5k time trial.
The weather was superb and perfect for some good running and that's exactly what happened. I had a solid run and beat my personal best time by 1 second - I'm now running 5k at 18:04. As they say, every second counts. I finished 26th out 544.
Sharon had a much more impressive run and once again smashed her previous personal best - this time by 42 seconds! She raced home to finish in 338th place with a time of 25:22 - her first visit in the 25's…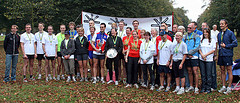 After the race there was some food (everyone was encouraged to bring some snacks) and this was followed by the prize giving. This past "season" there have been 54 races (every Saturday morning and extra races on Christmas and New Years Day). David ran 50 races and Sharon 43. In the overall points prize I finished 2nd male overall and Sharon finished 7th female. We both won prizes (lovely little medals and an Adidas rucksack) which was very cool.
A selection of photos from the event can be found over at our photography website.