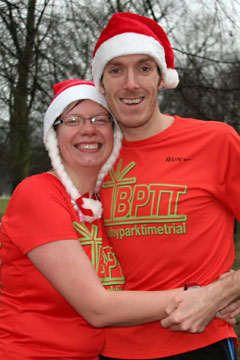 What do you mean, its not a Saturday…. Well, in addition to every Saturday throughout the year the Bushy Park Time Trial is also run on Christmas and New Years day. In 2006 there were 174 runners, today the number was just over 240 - and it was raining!
I wanted to get a reasonable length run in today as part of my longer term training (more on that in another post) so ran from home to the start (about 4.5 miles) before running the time trial itself. Clearly the earlier (easy) run didn't tire me out too much as I managed a time of 18:55 (22nd overall). I originally planned to run just under 20 minutes but having a couple of people I know (Nigel and Simon) running close by encouraged me to stick with them and push harder.
After just over a weeks rest from running after pulling a calf muscle Sharon eased back into her training with a time of 28:23.
Following the run there was plenty of socialising and a few mince pies and nibbles. What a way to start Christmas Day. Sharon and I can now relax as we're not racing again until….wait for it….tomorrow!