This past weekend (5,6th April) those who are running the London Marathon this coming weekend will have been in full "taper" mode and hopefully having a pleasant final long(ish) run - and at the same time maybe trying to enjoy the snow that fell in much of the UK.
On Sunday morning the Steyning Triathlon was held in Horsham, West Sussex and as the morning went on, the weather closed in. The official photos have been posted over at Antbliss.com but here's a shot I picked up via TriTalk and Rightzone that I just had to post here as well!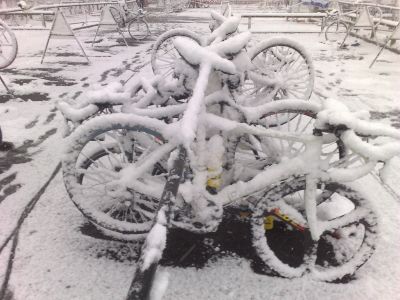 This was the bike transition area - fancy a 36km bike ride and 8km run in this weather? Don't worry - I didn't take part in this race - however I was somewhere probably just as cold (more on that later).
Finally to those running in London - do not fear - the weather forecast for Sunday is looking pretty good.