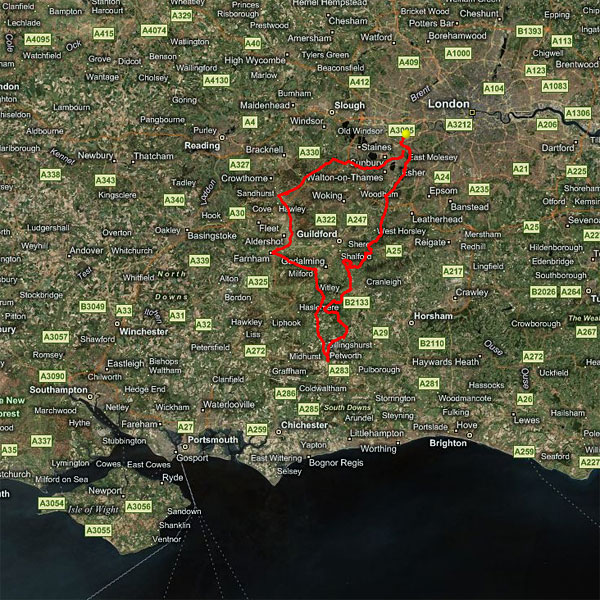 So, the London Marathon is behind me (although I'm sure I can feel it still in my legs - well, it was only just under two weeks ago) but I have to step it up a gear as I move forwards towards my first (and hopefully!) last Ironman triathlon competition. We're about nine weeks away from the big day and I need to get some serious swimming and cycling in during this time.
As I step down the long 20 miles runs post-marathon I'm trying to catch up with the biking. Last Saturday I did about 83 miles on the bike (then 30 on my mountain bike on Sunday) which was good - and this week I had the opportunity to go for a long mid-week ride with a friend. I was up and out of the house shortly after 6:30am and headed off into the distance…. From where we are in South-West London we headed through some lovely parts of Surrey until about 50 miles in when we reached Petworth in West Sussex. We stopped for coffee and a snack at a lovely little cafe and then headed north.
The journey took us onto some busier roads, with the busiest being a fast dual-carriageway (where it was just a case of get your head down and pedal at around 23-25 mph until the roads got quieter!). An early afternoon snack was had at about 80 miles by the lake at Virginia Water (near Windsor). Twas lovely.
As we headed back towards home Stuart got a puncture, and then about half a mile from the end my bike decided to fail on me big time. However, the good thing was that it packed up literally right outside the local bike shop! Result. The bike was unrideable so I just free-wheeled to the side of the road and there I was at the door of the shop. In went the bike for repair (hopefully it'll be back very soon) and my ride was done for the day. As I walked away from the shop my watch was on just under 107 miles. There we go, that was my first 100+ mile bike ride.
What I need to do is get a few more of these rides in over the next few weeks. As I write this a day later my legs feel pretty fine after the ride so this is a great confidence boost. Of course, on 'race day' I'll need to cycle harder for 112 miles and then run a marathon. Piece of cake eh!