Saturday 19th September saw me run my 100th parkrun…that's quite a long way when you add it all up! The tradition is that you are then presented the following week with the famous 100 Club top and matching jacket. I had been a little sneaky and got my 100 top the week previously so that I could wear it under my red 50 Club top and take off the 50 just before the start. This I did (luckily without removing both at once accidentally!) and one lady was heard to say, "Ooh that's impressive"…I think she meant my tee removing!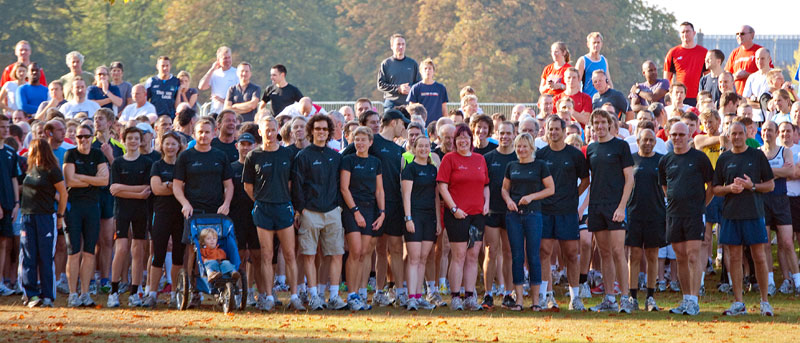 Members of the '100 Club', with myself in my '50 Club' t-shirt in the middle. Photo by David Nash.
So, that's me, a fully fledged member of the ninja-tee wearing 100 Club. The Club is growing and I think it's something to really be proud to be a part of. I ran my first parkrun in September 2006 so almost 3 years to the day I joined the 100 Club. That means that for roughly 2 out of 3 Saturday mornings for the past 3 years I have run at a parkrun…what do you mean I have no life?