I first competed at the Vitruvian middle distance triathlon (1.9k swim, 85k bike, 21k run) in 2008, shortly after getting the longer distance triathlon bug! It was a great event and I was seconds away from dipping under five hours for the distance (a chain coming off and a dodgy T2 were partly to blame). This year if all went to plan I expected to finish comfortably under 5 hours, especially after a good race at Bala in June.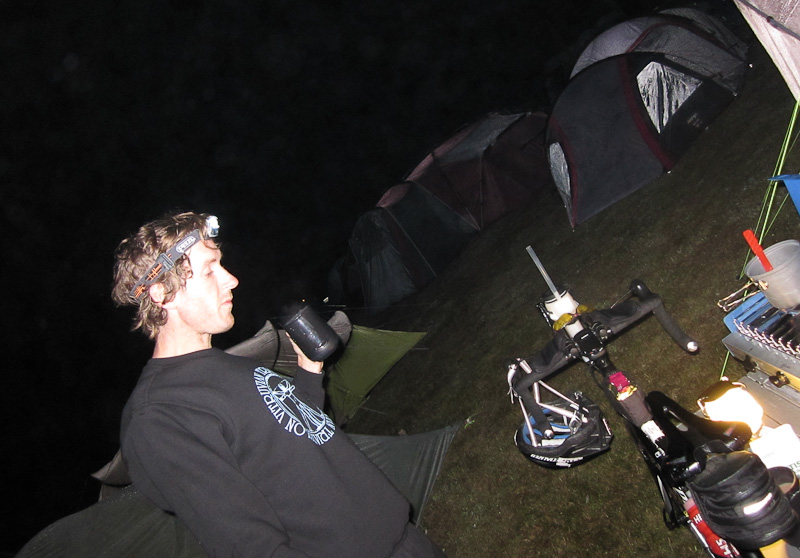 Breakfast time
Sharon and I camped on site this year - it was lovely being so close to the race area. At 4:15am on race morning I was up in the dark and boiling the kettle for my coffee and porridge.
It had been a clear night and was fairly cool and when we arrived at transition to rack my bike there was a mist over the reservoir (Rutland Water).
Down on the beach at around 6:30am I was able to watch the first couple of swim waves start. Because of the mist/fog it looked fantastic - even if you couldn't see more than about 50 feet in front of you!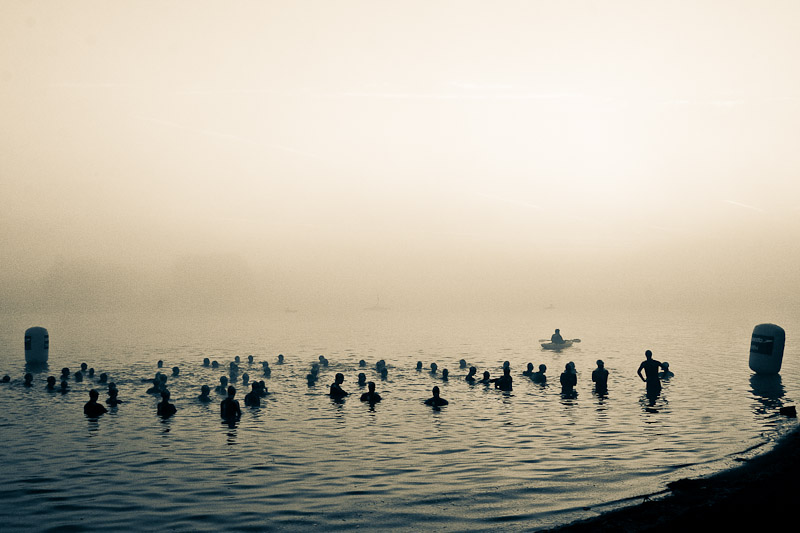 At the start of the second lap of the swim (after coming out the water, running along a short section of beach) I dived back into the water and managed to scrape my does on my right foot against the ground. Ouch, it really hurt. A few seconds later I did stop, turn round and look at my foot to see if it was bleeding - as from the pain I really thought it should be! It wasn't. I turned back round and continued the swim.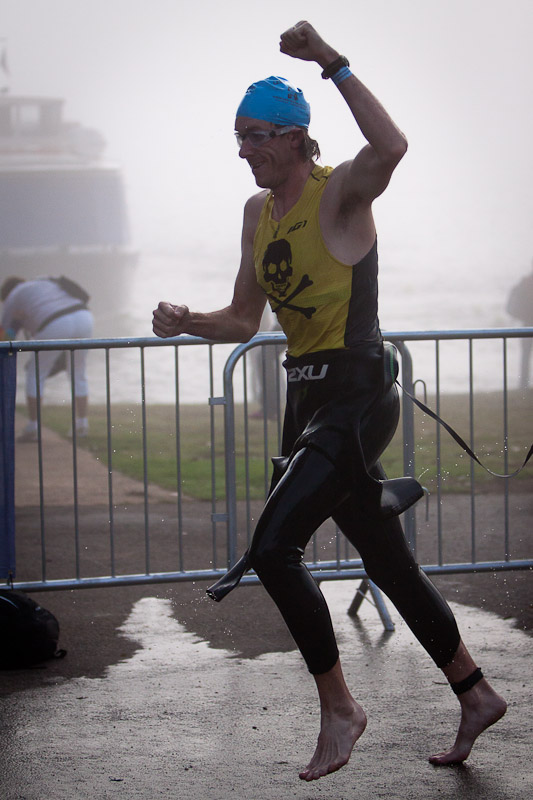 Swim time: 32:28 (32nd in age group, 116th overall).
Transition 1: 1:55 (38th in age group)
It was incredibly misty out on the bike. My plan was to try and pace things steadily (as always) and not hammer the hills - this is something that my power meter has told me - it hasn't told me much yet as I'm still slowly setting it up and calibrating my zones - but I do know how easy it is to push too hard on the hills. I do have to remember to push a little harder on the flat/downhills though.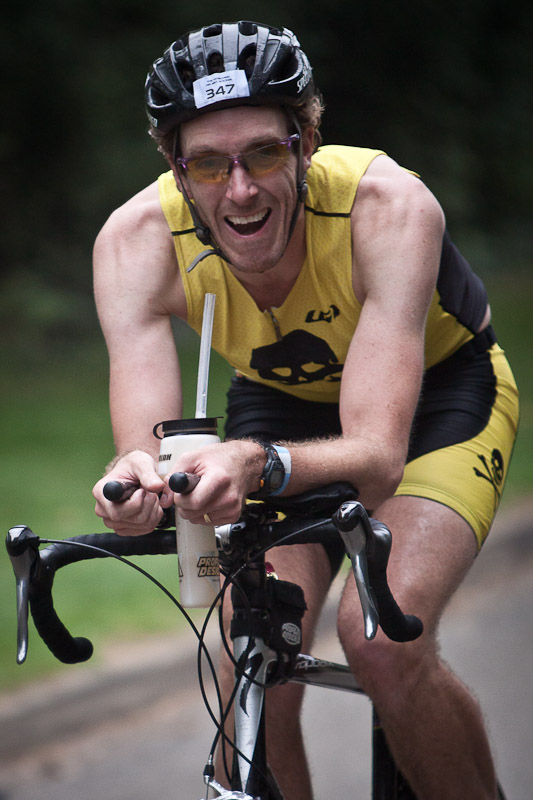 I took a PowerBar gel around every 20-22 minutes during the bike, whether I wanted one or not. Drink wise I had two 500ml bottles of Lucozade Sport and at the half-way point I took a bottle of High-5 from the feed station.
My first lap was slightly quick (1 hour 10) compared with the second (1 hour 13) and certainly during the second lap it felt tougher. I think I paced things pretty well, but not quite as good as I'd like as I certainly started to tire during the second lap. For the 85k (just over 50 miles) I averaged 21.2 mph.
Bike time: 2:23:40 (29th in age group, 81st overall).
Coming in off of the bike I lost a handful of seconds trying to make sure I found the right racking spot for my bike - this is very important as my run shoes were there! Once I found the spot, it was a case of just getting my run shoes on and picking up my 'supplies bag' - which consisted of three gels and my Garmin.
Transition 2: 00:56 (18th in age group)
I always run well straight off of the bike - actually a little too well most of the time. During the first km of the run I sorted out my gels, got my watch on and settled in to a comfortable pace. The trouble was, when I got to the 1km marker I'd run through it at about 3:46. This is sub 1:20 half marathon pace. This wouldn't last - that's for sure - especially as my standalone half marathon best time is 1:27:40!
I eased off the pace and just settled down to a strong but controllable run. From a morale point of view I love the run - as I'm a lot quicker than most of the people around me. In fact, during the entire 21k run I was overtaken by one person. I overtook plenty of runners myself. The run is just over 5km out, then back - twice. It's a good course for spectators and also for the runners as you get to see lots of people around you and can give each other support.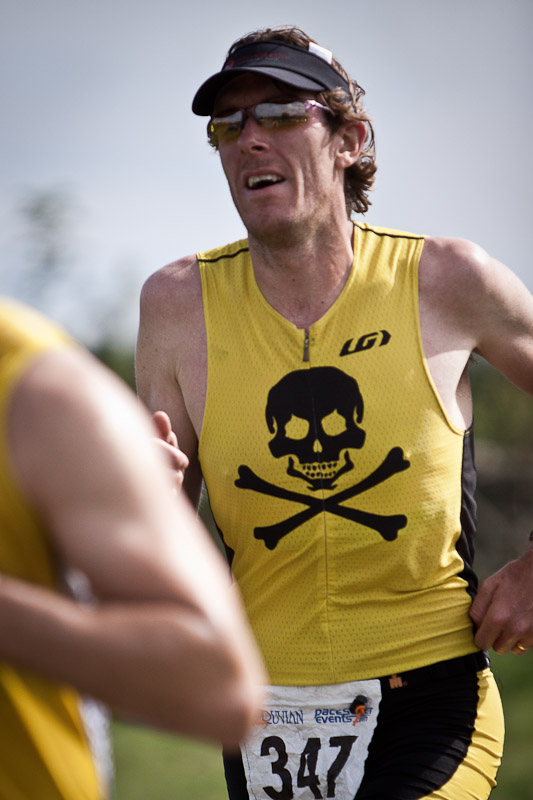 Pushing hard during the final km of the half marathon
Time wise I was looking like a 1 hour 30+ half marathon was achievable and at the final turnaround I remembered what I did in Challenge Roth during the Summer - dug in deep and pushed as hard as possible - make or break time! I only had 5km to go, and it was touch and go whether I could break 4 hours 30 for the race. There was no point getting to the end and regretting not trying my best so I just got on with it.
Sharon and Kirsty gave me a cheer about about 600m to go and I just put my head down (not literally though, as that would be bad running form!) and pushed on to the finish. There was no sprint finish - I didn't have anything left in me at this point but I was chuffed to bits to finish in an overall time of 4 hours 28 and 1 second.
My half marathon time was 1 hour 29 minutes exactly. This was great considering I ran the same course in 1 hour 38 two years ago. Unfortunately I don't have any heart rate data for the run as my GPS decided to play up on me - big time. It worked fine during the run but decided not to save any data. Ho hum. Nutrition wise I had maybe 4 gels on the run and sipped High-5 energy drink at most of the aid stations. I didn't have any water at all during the entire race (other than the reservoir water I accidentally drunk during the swim!).
Run time: 1:29:00 (12th in age group, 43rd overall).
Back to my overall finishing time I was just under 33 minutes faster than two years ago. My finishing position reflected this as well as two years ago I finished 200th out of 699 finishers. This year I was 46th out of 790 finishers. What I like about this the most is that I have the same wetsuit and same bike (the only change being that I no longer have a compact chainset but that shouldn't make any difference). I am just stronger overall - especially on the bike and run. This is great to know, especially when I know that I can do better with more (and more structured) training.
Overall time: 4:28:01 (16th out of 147 in age group, 46th overall).
Looking at the winners time, he finished in 3:45:51 with a swim of 26:39, bike of 2:04:13 and a 1:12:58 run. Superb.
Putting in a race of this length a few weeks after an Ironman seems to work well and the Vitruvian is a great final triathlon of the season for me. It was good to come back to the race after a years absence and its highly likely that I'll be back there again in 2011 - not just for the great racing but the excellent support and socialising with the 'pirates.'
The other thing I love about this race is that I'm finished by lunchtime so I don't miss any meals! Result!