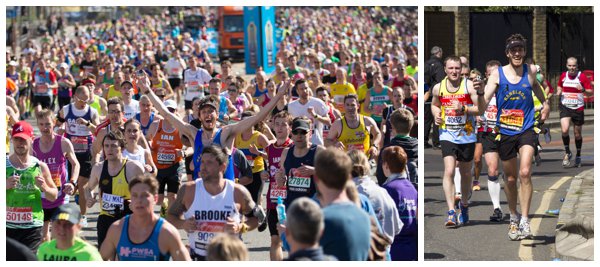 Back in April of this year I ran the London Marathon. It was my third time in the race and I loved it more than ever. One of the main reasons for this was that rather than run it as fast as possible I used the race as a training run (and a rather long one at that) in my preparation for an Ironman triathlon a few weeks later.
To force myself to run slowly and not get carried away I carried a GoPro video camera with me and filmed much of the race. A few days ago I got around to editing the footage down to a fairly lengthy 22 minutes and have now uploaded both a quirky little 'trailer' for the video (embedded below but also on YouTube)…
…and also the full video (below). The idea of the video is to show a bit about what the London Marathon is like - getting there, waiting for the start, the start, the music, the crowds, the aid stations, the tunnels, the runners, friends, people getting injured, the crowds (again) and the finish. I had so so much fun that day and this video brings back loads of great memories (video embedded below but also on YouTube).
Video Links - trailer, full video