A couple of weeks ago Sharon told me that we'd been invited round to Ann and Ray's house for dinner. Ann and Ray are the event directors at Bushy parkrun and we've known them for years. A couple of years ago I even went on holiday to Lanzarote with them (just the three of us - I left Sharon at home!) for a weeks training ahead of Challenge Wanaka at the start of 2012. They're a lovely couple and a quiet dinner a few days before I head off to warmer climes sounded like a fine idea.
After a morning spent in Hyde Park watching the womens race of the ITU World Triathlon Series Grand Final I spent much of the afternoon getting things ready and packing clothes (not too many mind you as I feel that I'll be buying a 'few' bits and pieces out there). We then headed off for dinner.
Sharon told me that Ray was planning on wearing his Hawaiian shirt so I should probably do so to. I've got a couple of flowery shirts so I chose one that we bought in the Cook Islands back in 2001.
I rang the doorbell, the front door opened and rather than just Ray and Ann being there to greet me I was welcomed by a 'hareem' of ladies dressed up and hula-dancing to some tropical music. This was not to be a quiet meal out!!
I was gob-smacked. Couldn't believe it. As I slowly walked through the hallway to say hello to the girls there were more and more people everywhere I looked. It was a huge crowd (at least 30 people) all from Bushy parkrun who wanted to throw a little bash to wish me good luck in Hawaii.
Everyone bought food and drink, plenty was drunk and I (and by the looks of it everyone else) had a great time. We didn't get home till just before 3am so it must have been a good evening!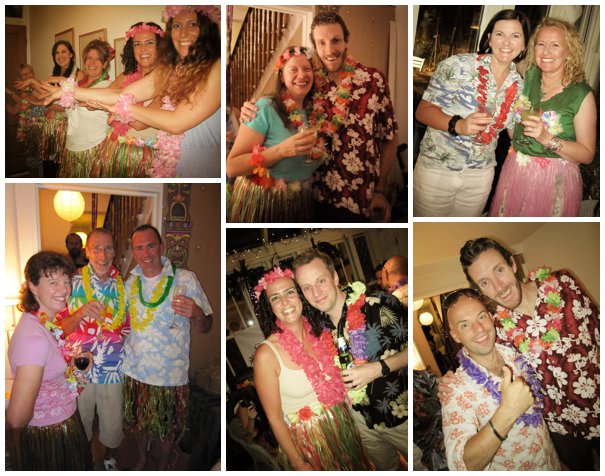 Thanks to everyone who came along and for keeping it a secret. I had an amazing evening.