OK, so it's been eons since I last wrote a blog. In fairness to me it's because I haven't had very much to blog about. A bit of background to my running comeback (ahem!) first…
I started to get back to running again in January this year with the aid of Marathon Talk's, "Jantastic"…swiftly followed by, "Febulous" and then, "Marchvellous". Essentially it meant I started to run again 3 times a week, with my runs getting a bit longer and I even had to "race" a parkrun again. I was feeling good - but then Marchvellous ended and with it went my motivation. I stopped running again.
At the very end of April I decided that I needed to do something about it. Mostly I was being hindered in my running by my weight. Something somehow clicked in my head and so far I am 30 pounds lighter after 18 weeks. It's definitely helping with my running, which in turn makes me want to run more. This is a Very Good Thing.
So, here we are. Tuesday 30th August saw me don my Ranelagh vest for the first time in quite some time - and I was beyond excited!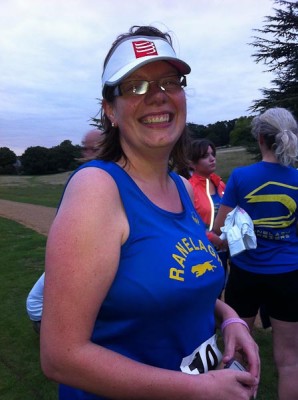 It was the Ratchford Relays. This is a women only race at my club, each team consists of one fast, one medium and one slow runner (me!). There are 6 laps to be done and the traditional ordering is F, M, F, S, M, F. Each lap is 1km long. Our team actually became 4 members due to the late arrival of Olivia, who is an awesome 10 year old runner, who ran one of our fast laps. We controversially swapped our order as well to take advantage of Olivia's fresh legs! Before I knew it, I was off!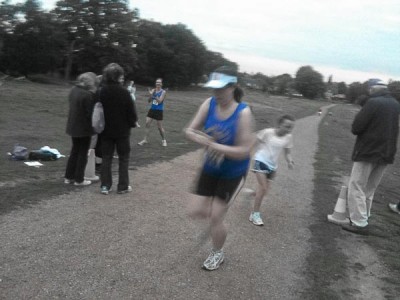 When I did the Relays in 2008, I was a medium runner and did my laps in 4:54 and 4:56, in 2010 I joined in for the fun of it and did 5:41. This year, I tried really really hard - and did a time of 5:10 for the km. I was over the moon - my legs haven't moved that quickly since, I reckon, 2008! They were very excited about it :)
It was lovely to be with my Ranelagh club mates (and David who was my PA for the evening!), lots of people I hadn't seen in an age and lots of new runners to meet too. As an aside our team finished 4th out of 6 teams - but that's not the point of the Ratchford Relays. I really enjoyed myself, as the photos may testify!