Goodness me, I had a sleepless night worrying about this race. It's been on my mind for a while and here was the morning. We collected Kirsty and Danny (2008 Race Flashback anyone?) an hour earlier than we would have liked due to the clocks Springing forward and before we knew it we were parked in our usual space in Cranleigh!
Usual pre-race preparation and faffing and suddenly we were in the road and off. My plan was to do 11 minutes per mile, not to set off too quickly, eat 6 gels (bleurgh) and drink my drinks. So, how did I do? Hmmm. Well, I set off too quickly (and then had another couple of miles around 8-10 which were also too fast), only managed 5 gels, did drink my drinks and more besides from the lovely water station marshals and finished in 11:11 average pace.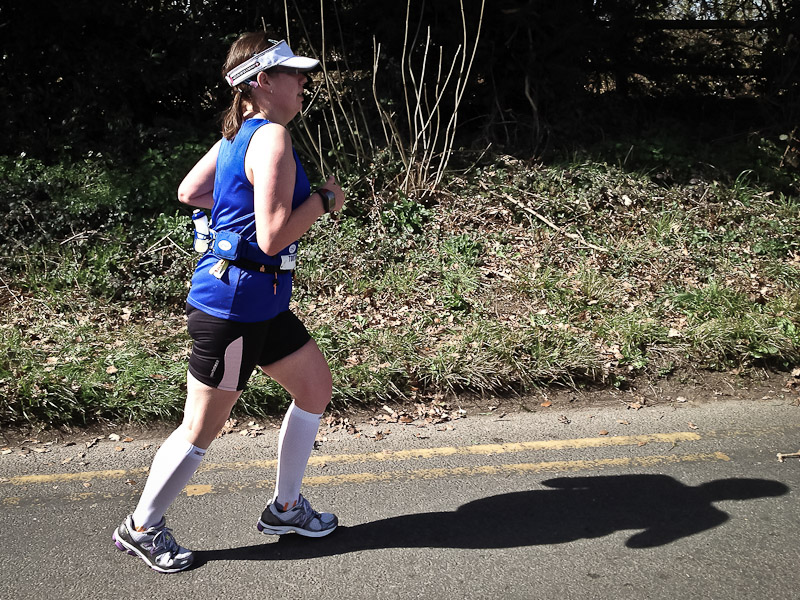 There were some Very Bad Times today. I was essentially running on my own, no iPod (as I won't be wearing one in the marathon), bibbling along, walking much more than I thought I would, or indeed ever intended to. When David came past me at about 14.5 miles (it's a lapped course), I said, "I don't think I can do another lap". My head was seriously messing with me.
Before I knew it, I had to make the decision about running a third lap or not. David told me in the car that he was worried I wouldn't do it. He had a plan to come up to me at the finish and try to get me to run a bit further. Apparently, it wasn't until the very last minute that I gave a double thumbs up and headed onto the third lap. I met Kirsty along here, walked whilst eating a gel and then we set off again. We had already decided she wasn't going to run the final lap with me and to that end she'd done her run already. However, she tripped along with me for a little bit and at a convenient moment, she offered again to run with me, which I politely declined and off I went on my own again. I needed to do it on my own, I really did.
Anyway, I carried on, running the flats and downs and walking as fast as I could up the hills. I got a little burst of feeling good between about 18 and 19 miles, which essentially set me up for not finishing last! I have never been so happy to see a mile marker in a race. When I saw 20 miles, I was delighted. Any old fool can run a mile, right? Well, I had to walk some of it first, as it was the biggest uphill of the course. I ran my little heart out for the last half a mile and tried to finish strongly. Saw Danny just before the 21 mile marker, then David and Kirsty were a little further along and there was the sign I longed for. Finish. Medal. Job done :) A smidge under 4 hours (3:58-ish) and not quite last.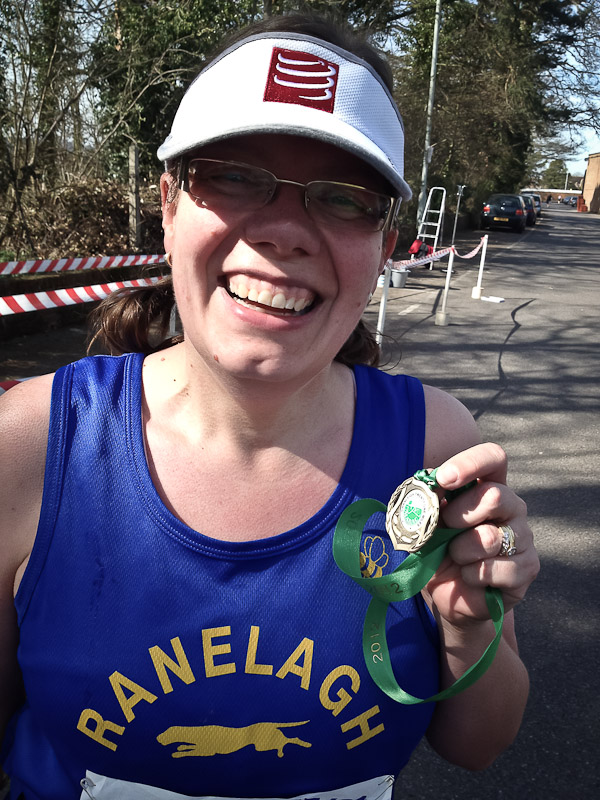 Thanks to Sherpa Kirsty for the suncream and drinks fetching and running and cheering and making me eat something! Thanks to David and Danny for cheering and waiting around for so bliddy long after they finished and to David for making me get in the cold bath when we got home! Lots of lessons learnt, which I guess is the point of doing a 21 mile race a few weeks away from your marathon ;)