The following is my side of the 'accidental qualification' story by David which I wrote a few days before David wrote his report. This is the 'other side' of Ironman in our household.
I used to write Iron Sherpa reports after races, when David first started racing that's what I aimed to do but it seemed to go by the wayside. However, after the events of this past weekend, I am resurrecting the tradition! This is totally self-indulgent, if you don't like that kind of thing then look away now. I want to write it all down whilst it's fresh in my mind - or you forget stuff, like on your wedding day!
Months and months ago, David entered IMUK in the glamorous destination of Bolton. He was already entered into IM Lanzarote, the foreign Pirate Sailing of the year, where he went sub-11 hours, a great result on that course and that particular day. David wanted to do IMUK to see if it would one day be the place he could possibly place highly enough in his Age Group (AG) to qualify for the Ironman World Championships in Hawaii. We told no-one for months and months and then in the last few weeks, told a few people of the plan. A couple of them said that he'd be in with a chance this year. We thought no way would it happen. So much so that David even told me to book a weekend away for our good friend Dawn's Hen Weekend. He told me there was no chance he would qualify.
So, the weekend came. We set off on Friday morning, it's a pretty well-oiled machine now in terms of what is taken to races. I will leave David to fill in all the details here except for one. He told me in the days preceding that he was going to race this race differently. He was going to go really hard on the bike and see what happened and that if his running legs didn't show up, he would aim to just complete. He felt that he really needed to see what would happen if he pushed hard. I must confess, it terrified me. It's tough to watch the person you love most in the whole world in a lot of pain (as he was in the final 6 miles of the marathon in Lanzarote) and I don't like to see it but it was his race and I knew he wanted to give it a go. If I wasn't nervous enough before, my tummy was doing tumble turns! Slept horrendously due to nerves and a very hot hotel room.
Saturday morning we went to Pennington Flash parkrun. David didn't run, I did (quite a lumpy course, lovely people) and whilst I was running David went to rack his shiny P2 as the parkrun was 1km from the lake he would be swimming in on Sunday. We bimbled about a bit during the day, off to T2 to drop off the "Red for Run" bag, caught up with fellow Pirate Elaine and her husband James, then headed off for a lazy afternoon of planning where to watch and a relatively early dinner. Went to bed about 10pm, had another sleepless night although I was glad that every time I awoke (about every 20 minutes for about 20 minutes) David seemed to be asleep. He was obviously a lot calmer than I was (nothing new there!).
Race morning. The usual "sci-fci" alarm on the phone. Up. Breakfast. Pirate tee on. Got to Pennington Flash in plenty of time and headed to T1. Now oddly, T1 is one of my favourite places, I love watching the athletes gently going about their business, the occasional word is passed, it's eerily quiet, the early morning light adds to that. A bit of milling about, found a little bench by the water where David caught his breath, started to get the wetsuit on. A bit of light-hearted chit chat with friends and an interesting conversation between David and Tom (a friend of ours supporting for the day) and I said goodbye to David. I think it's important for him to have a few minutes to gather his thoughts - he seemed relaxed and ready. Soon enough, the athletes were heading into the water ready for the off at 6am. It's such a great sight, 1600 people in the water heading off.
I walked around to the Australian Exit, where the racers would emerge at the end of their first lap of the swim. I was scanning and scanning but couldn't see David. Mind you, spotting a person amongst all that neoprene is tough! I was stunned at the melee! Such a lot of swimmers piling out at the same time, quite a spectacle. I checked the tracker and saw that David was long into his second lap…before I knew it, joy of joys, he was running out to T1. I shouted my loudest and got a wave in return (I don't think he knew it was me shouting to be honest) - I'd already had more response from that one wave than I got during the whole of his race in Roth in 2010 ;)
I dashed over to the bike mount area and was glad to see a friend of ours Min was officiating at the Mount Line. Got there just in time to see David head out on his bike. "Go David. Ride like the wind! I love you!" Grinning from ear to ear, he zoomed off. Just behind him was a friend of his Nico, literally seconds behind. I was quite glad as this would give me some sort of reference point for the times I would see him on the bike. He had an excellent swim (even allowing for the suspected slightly short swim, the run to T1 made up for a bit of that I reckon), I was hoping he was chuffed to bits and taking that as motivation for the day ahead.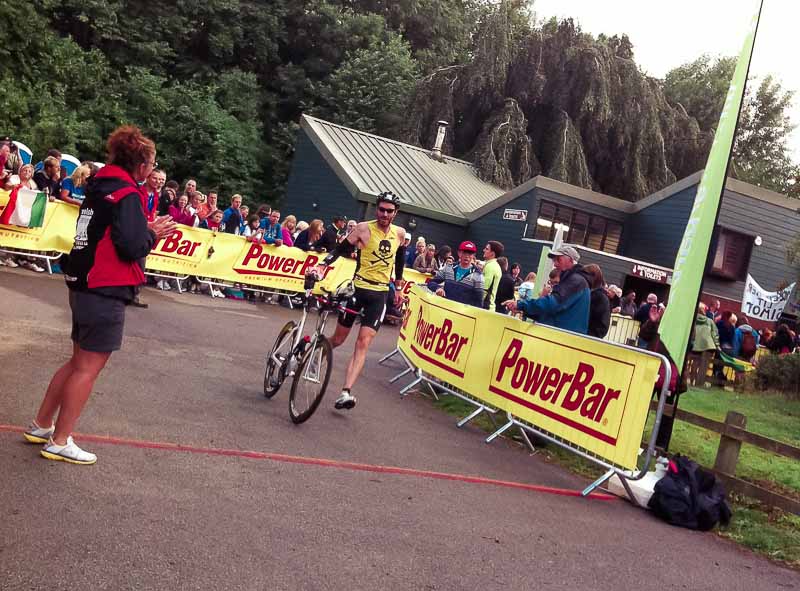 We weren't allowed to leave "The Flash" until the last competitor was out and onto the bike so James and I cheered people onto the bike course until we could go. Soon enough we had headed off to our bike support location where we knew we would miss David and Elaine on the first lap but would catch them on their second and third laps. We were timing seeing them both with a cross country adventure (oh dear, my getting over a wall, fences and through a gap not built for someone my shape was quite a sight to behold I am sure!) to Tesco to get a sandwich. They came through looking happy as sandboys on the bike. David was flying up the hill we were stood at the top of, down on his bars, looking strong and like he was loving it. We shouted a *lot* and I was happy to see that he seemed to be holding his position on the third lap that he seemed to have on the second. All that bike training on his birthday present seemed to be paying off. Cheered on all the Pirates, Black Line boys, Turbos, TriTalkers and everyone else we could. Need to do some voice training for the next event I think! At this point I want to say thank you to James for sharing the day with me, it's so good to have someone with you.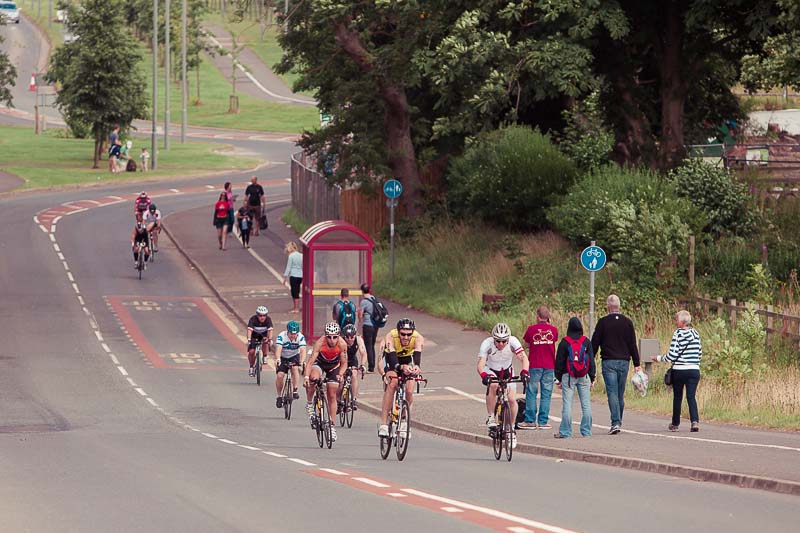 As soon as Elaine went through for the third lap, we whizzed off again - but not until we had spoken to the lovely Mousie who was sat at home doing some serious Tracker Stalking :) It's lovely knowing people are following the progress of "your" athlete and wanting the best for them.
Parked up in Bolton town centre (finally! Crazy satnav!) and headed off up the course to the place we had said we would meet Em and Mike. On the way we bumped into the aforementioned Tom, with his wife Helen and bean Rosie-P. It was lovely to see them, I gave Helen the biggest cuddle and told her not to let go. I was getting quite scared at this point, on the tracker I could see that David had done an amazing bike split and so I was worried his running legs would go. Tom said he thought David was doing really well, that he was in with a chance for a qualification spot. I shushed him, didn't want to think about it.
We walked up the course, cheering people as we went (not that there were many of them at that point). A couple of texts from Em saying she'd seen David looking good, then suddenly there he was! Pirate kit is fairly easy to spot at the best of times but when it's on someone of David's stature it's even easier. He gave a wave and as he came towards us I thought, oh god, he looks awful. I hadn't seen him look quite so peaky so early on in an Ironman marathon before. We continued on our way and when I saw Emma, I was stressed beyond belief. Somewhere around this time, I got a tweet from Deenzy, saying that he thought David was off the bike 1st or 2nd in his AG. I tweeted back, "Why did you have to tell me that?" oh dear, the nerves were building. In fact even just typing this, my tummy is flipping over! More people were tweeting me. The gorgeous Mousie was updating me with David's run splits as at this point my 'phone decided it didn't like the tracker any longer. Helpful, eh? Thank goodness for friends. Especially at this point thank goodness for Em who could see what a state I was in and just kept being kind and lovely to me and giving me hugs. So so needed. I was fighting back tears at this point.
The next loops were tough to watch, waiting for David, waiting for friends, some of whom were having seriously tough days. We were part of the way down a long drag of a hill, the athletes looked in so much pain as they ran down (screaming quads no doubt!), then in a different pain on the way up. Talk about an honest course! As we saw David come up the hill he looked a bit better and called out to me to ask Tom something (which I did but I will leave him to tell you about that), in fact each time we saw him (including on the walk back to the town centre for the finish area) he looked stronger. He looked so determined, I've never seen such a look on his face. We came across Tom again, who was saying David was holding on, he was looking great, he might get a slot. I told him no no no, I really really didn't want to allow myself to think that David's Ironman Dream might come true. It seemed too huge to even think about.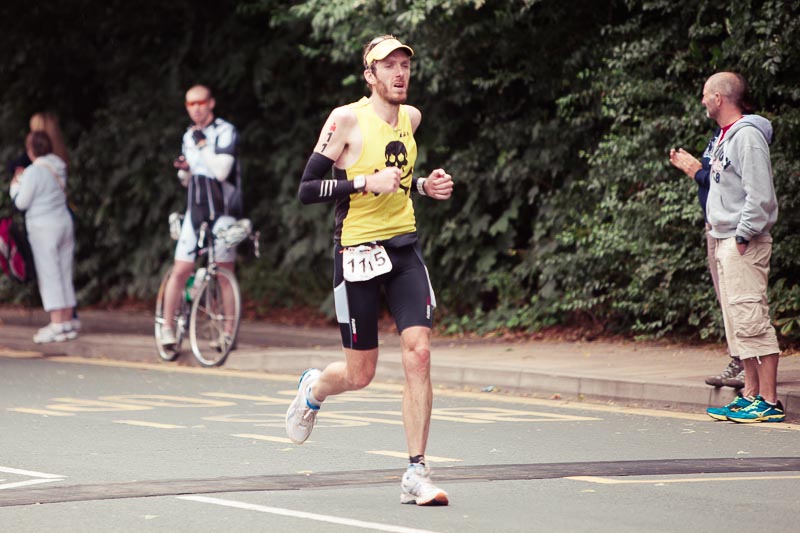 My pace quickened on the way back to the finish area, I knew he didn't have far to go. We were wending our way around, made it to an area we could see the finish gantry around a little wiggle on the course and before I knew it I could see him. He was flying. He came past and gave me a little "low five". I burst into tears. The relief of seeing him get to that finish was immense. Mike told me and Em to look at the screen above the gantry as he was on the screen and I looked at my phone to see the time. It said 16:00 hours, so close to 10 hours, amazing. Mike then said he thought David had gone under 10 hours. More tears. People around me were smiling at my crying (well, I like to think they were smiling in a kindly manner rather than just thinking what a mad woman I was!). We walked around to the gantry and could see David walking about, having a drink, smiling. Mostly smiling.
That's when the messages started to come in. Tweets and texts that he had won his AG and gone under 10 hours. I couldn't believe it. I wanted to see him. I was laughing and crying (yes, again!) and poor Emma was being hugged half to death. Then he appeared. I ran over to him and squeezed like I would never let go. I told him about the messages and the time and the AG placing. He was stunned. We snuck into a corner and got him changed into warm dry clothes, it was tipping down at this point, more "I can't believe it" conversation and lots and lots of grinning!
Of course, nothing is a given, you never know what will happen until the results are out and confirmed but we were still pretty excited. David went back into the tent to get some coke and food and whilst we were stood cheering on finishers, I got a text from David with a screen grab of the tracker with his name in 1st place in his AG.
It was mad. There was a lot of happiness on that finish line, we watched Elaine finish in an awesome sub-11, 2nd in AG placing. Amazing. Spoke to a couple of people on the phone. Replied to texts and tweets. Jo (another of our Pirate pals) also won her AG in an incredible time of 11:30. It was all too much, I thought I would pop! Said bye to Em and Mike - thank you so so so much for helping me and keeping me calm during that time, gosh I'm a nightmare to be friends with! Then we went off to collect the bike, drop it at the hotel and headed back to the finish line party, via a cash point. Saw Rosey, one of our Pirate pals who has been to Kona twice before, he was delighted for David which was lovely to see. It was great to see lots of finishers wearing their medals standing in the rain cheering on the later finishers. That's such a special part of an Ironman event. Before we knew it, the last finisher was in and we were on our way back to the hotel. We obviously had another shocking nights sleep - but this time due to excitement and fear of sleeping in and missing the Kona slot alloction the next morning!
We were up early, breakfast, car loaded and headed off to the Reebok stadium for the Awards, roll-down and slot allocation. We didn't know where the results would be posted. They were going to be put up on the wall and if your name was highlighted, you had an automatic slot to go to Kona. David's name was highlighted, as was Elaine's and Jo's but alas Nico's was not, as the provisional slot allocation in his AG had changed with one slot fewer. Nightmare. We queued to pay David's Ironman World Championships entry fee, he had a lei placed around his neck, signed his life away promising not to dope and then milled about a bit, talking to people, sharing exciting times with others with that lei around their necks.
At Lanza, the roll-down ceremony was awesome, the joy for people who the place rolls down to is amazing. We'd bought an Awards ticket for me just in case any of our friends had qualified for Kona, we never dreamed it would be David. We were sat fingers crossed for Nico, it eventually came to his AG and he was in. The place rolled down. The Black Line table went mad, as did our Pirate table. Brilliant! After this the awards were presented. These were actually done really well, each AG, male and female together, so 6 people on stage at each time. I don't think I have ever cheered so much in my whole life as when David walked up onto that stage to take his place as 1st 40-44 male. I tried to take some (very shaky!) pictures, I whooped. Then, when he was talking to the guys in 2nd and 3rd place at the side of the stage I burst into tears (I know. Again! Dehydration was a serious risk!). The CEO of Ironman Europe saw me wiping the tears, smiled and gave me a big thumbs up. Some photos of our Pirate trophy winners, hugs and goodbyes and we were off home - horrible journey but helped by the, "I'm going to Kona!!!!" chit chat :) I spent a lot of the journey whilst David was napping trying to figure out if I was most proud of his sub-10 on that "known to be tough" course, the AG win or the Kona qualification. I still haven't quite worked out which, it keeps changing.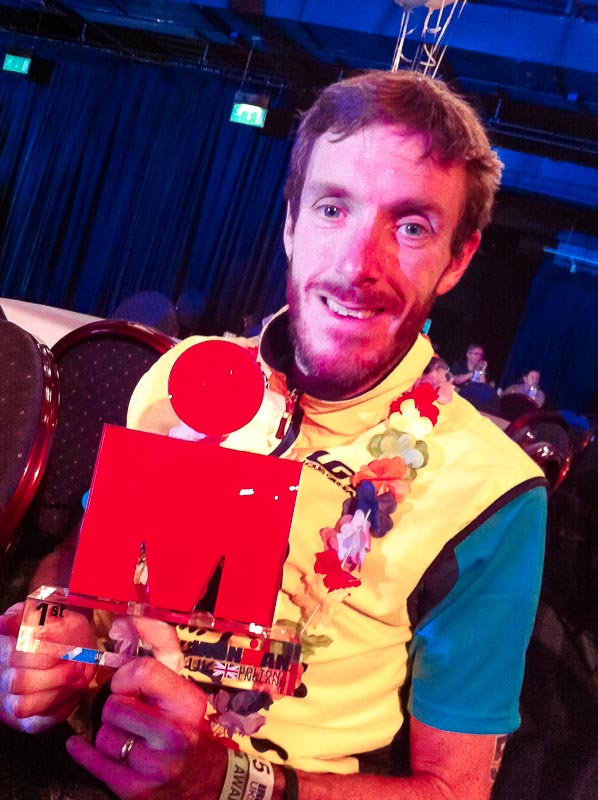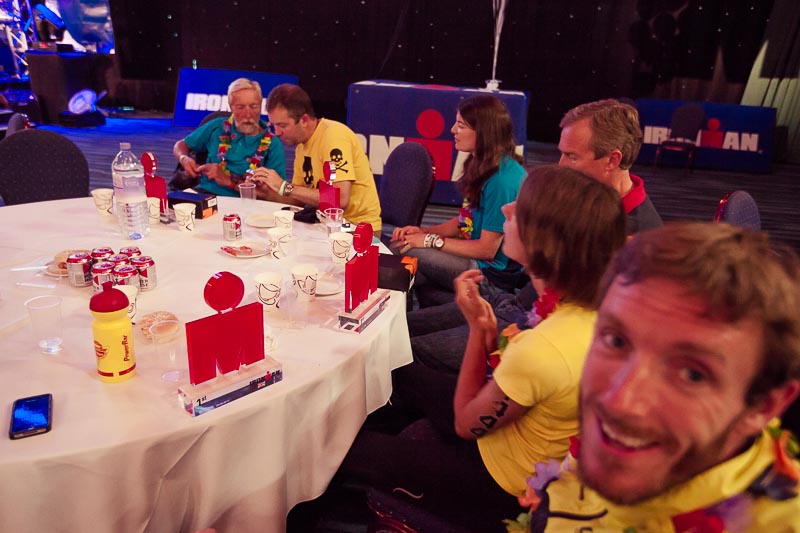 So. Here we are a few days later. I am still stunned - and to be honest I think David is too. I was, "sent to my room" at work on Tuesday for behaving like a teenager squealing ;) David and I just keep looking at each other and saying, "Kona, baby!". I have an obsession with reading people's messages to him which have been wonderful, the trophy is occupying the space on the sideboard, we are making plans for travelling to Hawaii in the Autumn. I'm so sad though for friends who didn't have the race they deserved but I know they will be back, raring to go, ready for that lei.
David sent me a link to an interview with Marino van Hoenacker today, I think he's such a great athlete but sadly he won't be at Kona this year due to injury. One of the lines was, "Train hard and smart and race to your dreams". I am so very proud to know that the man who occupies the biggest space in my heart did just that at the weekend and has fulfilled his (well, ours really) dream to go to Kona. It's phenomenal.
Pirates do Kona, baby!