Kona, Hawaii. The home of the Ironman World Championships. For the past few years I've stayed up all night watching the online coverage, completely immersed myself in the news and videos from 'Kona Week' that are all over the various triathlon online media and I'd say I probably get more excited about this week in October each year than I do at Christmas or my birthday. Ever since I started getting a little quicker at triathlon I've wondered if I had what it took to get myself on the startline of the biggest, baddest triathlon on the planet….
I'm certainly not quick enough for it yet. I competed at Ironman Lanzarote earlier this year and finished 35th in my age category. I had a good bike ride but really struggled during the latter miles of the run. I know I need to be sensible in my training - swim more, train smarter, do 'brick' sessions (running immediately after long bike rides) etc. I do none of these (I save my brick sessions for races)! Surely with a year or two of focused training I could give it a shot to qualify for Kona.
First thing I wanted to do was find an event that I like the look of. One of my friends has qualified twice at Ironman UK so it clearly works for him, so I wondered if it would work for me. What I thought in October 2012 was that I'd enter Ironman UK 2013 in Bolton to see the course and decide if it was a course that suited me in swim, bike and run. My main event for 2013 was Ironman Lanzarote so the focus was on that. Ironman UK would just be a 'recce' of the course. No pressure at all. I entered the race in October 2012 and told only a handful of people that I was going to do the race.
A couple of days before the race I said to Sharon that I was thinking of pushing harder on the bike and seeing what happens on the run. I believe the problem I had at Lanzarote on the run was down to not having enough nutrition (I got fed up with gels so hardly had any on the run). This time I'd be giving myself a stern talking-to if those same thoughts crossed my mind. I was prepare to have a nightmare run if I had pushed too hard on the bike but as I said to Sharon it didn't matter. She really wasn't keen on this strategy but for me it's all a learning experience.
Pre-Race…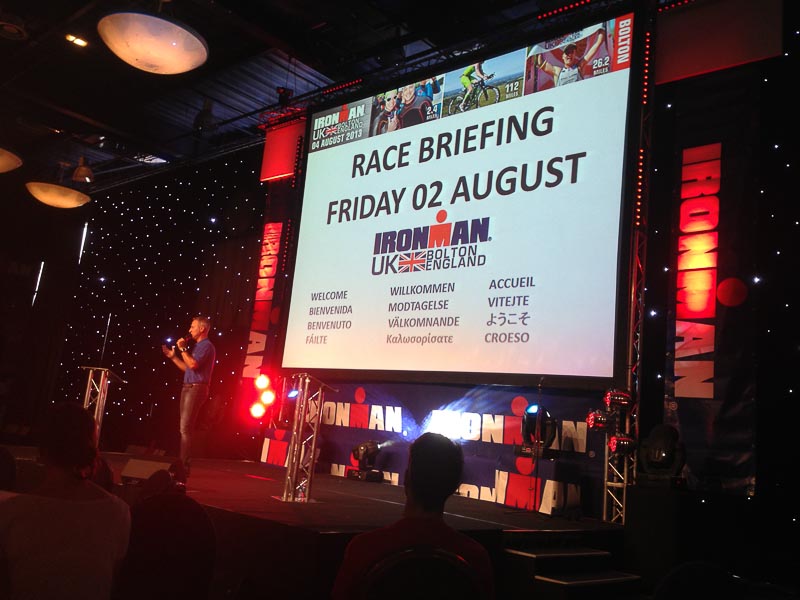 Friday morning Sharon and I loaded up the car and headed up to Bolton. We checked into the hotel (we were being 'posh' this time as we normally go camping at UK races!) and then headed to race registration at the Reebok Stadium. After registering we hung around for the race briefing and 'pasta party.' Back at the hotel I sorted out my transition bags as Saturday morning we were going to hand the bags in at the different transition points.
Saturday morning we were up early and whilst Sharon drove to Pennington Flash (where the swim and T1 - transition one - is based) I cycled there to make sure I was happy with my bike (which I pieced back together after the previous days drive). Handily there's a 5k parkrun at Pennington Flash so although I didn't take part I did watch and support Sharon who ran.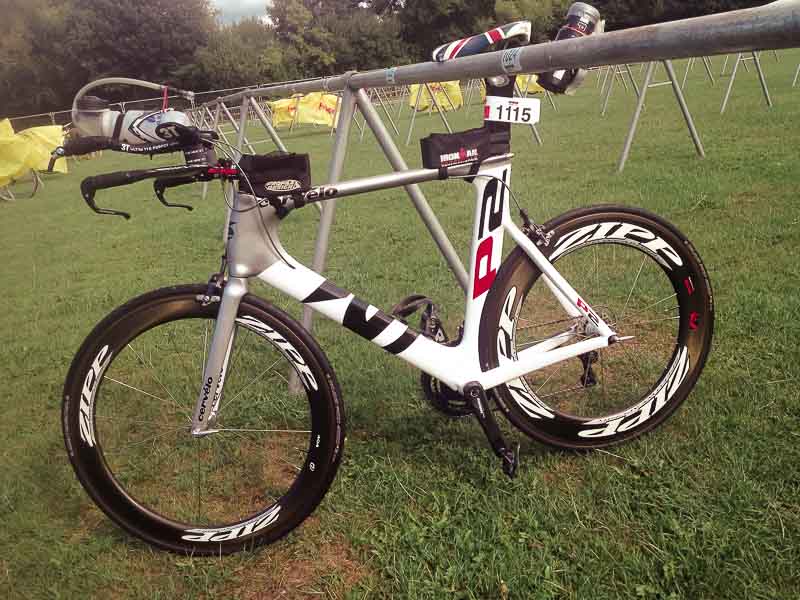 Bike racked early on Saturday morning.
I headed to transition, got my bike racked, handed in my 'bike bag' (bike shoes, helmet, sunglasses, race number belt) and then jumped in the car to drive to transition two (bike to run). We followed the bike course from T2 to the start of the three 'loops' that make the remainder of the bike course. I rode those loops in training a few weeks ago so knew what to expect but didn't know the first part of the course. Apart from a steady incline during part of it the route seemed fine.
At T2 I handed in my 'run' bag which contained running shoes, socks, a visor and a bag of goodies (gels, suncream, vaseline, immodium tablets). These 'goodies' I take onto the run and can use them during the run as necessary. No hanging around in T2 for me.
After returning to the hotel it was time to think about dinner. In order to prepare my usual pre-race dinner we brought our mini camping stove and I made dinner from the back of the car in the hotel car park! Not very elegant but I ate exactly what I wanted to and at the time I wanted.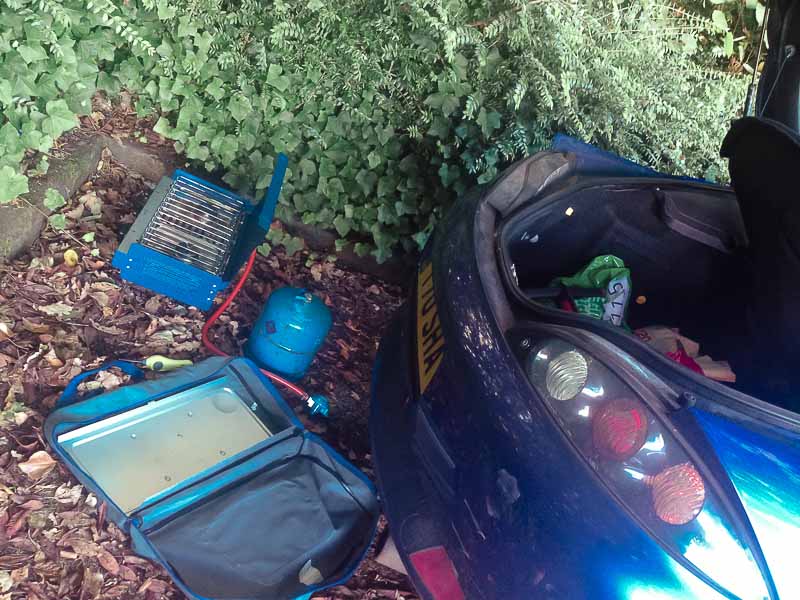 Saturday night kitchen!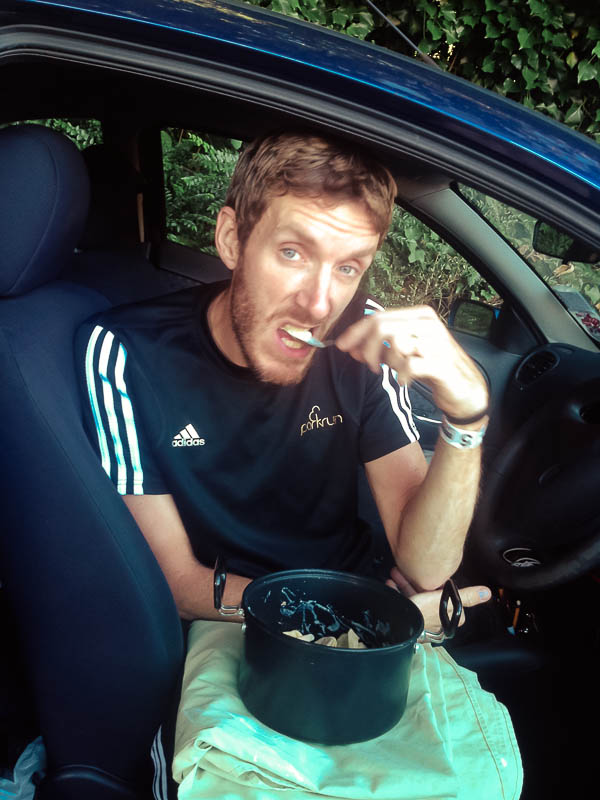 Pre-race dinner in the hotel car park.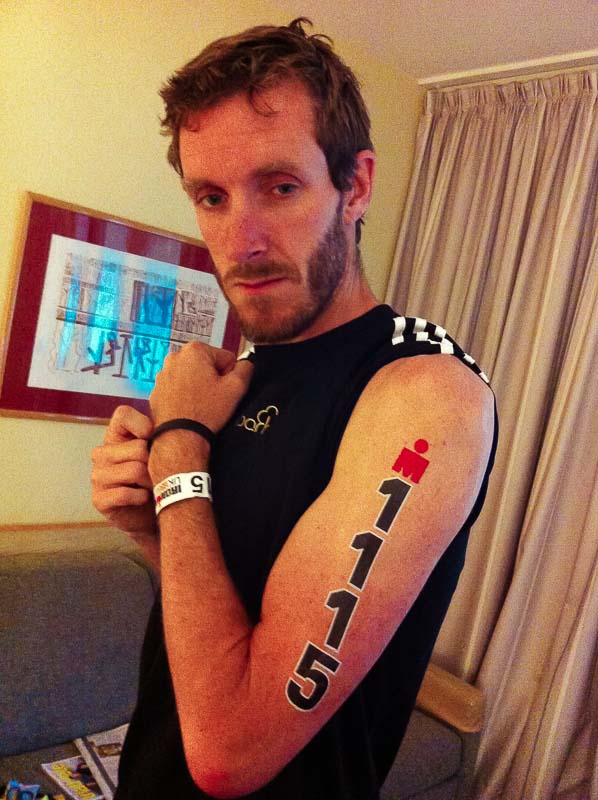 Pre race day showing off the race number 'tattoos.'
Attempts at an early night were almost scuppered when I found Die Hard 3 on TV. After 20 minutes or so I was strict and we turned it off.
Race Day
I had a lovely nights sleep. Well, until the alarm went off at 3:15am. Kettle on and a test of my new pre-race breakfast - tins of Ambrosia rice pudding. I tried some once before a long bike ride a few weeks back and it didn't give me any trouble so I thought I'd give it another go.
We drove to Pennington Flash, I checked my bike over and loaded it up with sports drink and energy gels and then got ready for the swim. We bumped into good friend Tom Williams and I told him what my race plan was. He liked the sound of it and told me a story about when he took a similar strategy at Ironman Germany in 2008.

Transition. 5am.
Swim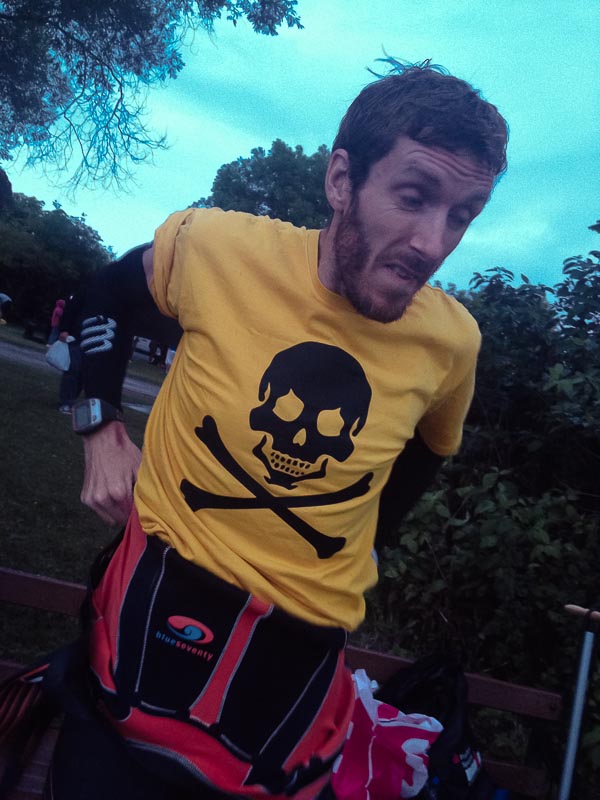 At about 5:30 I got into my wetsuit, knocked back my first energy gel of the day, had a good luck kiss and hug from Sharon and then headed to the water. I'd read that there's often a big queue to get into the water at IMUK so I got there early and when they allowed us into the lake it wasn't long before I was in. I got a good few minutes warm-up and then found a position over to the right hand side of the start line. This would allow me to hopefully not get punched and kicked too much, but also give me the chance to move in and find fast feet to follow in my own time. It worked at Lanzarote so I decided to give it another go today.
The swim is two laps with the first slightly shorter (as you start in the water). At the end of the first lap you come out of the lake, run about 100m and then get back in for the second lap.
The starting signal went and off I set on what was going to be a long old day.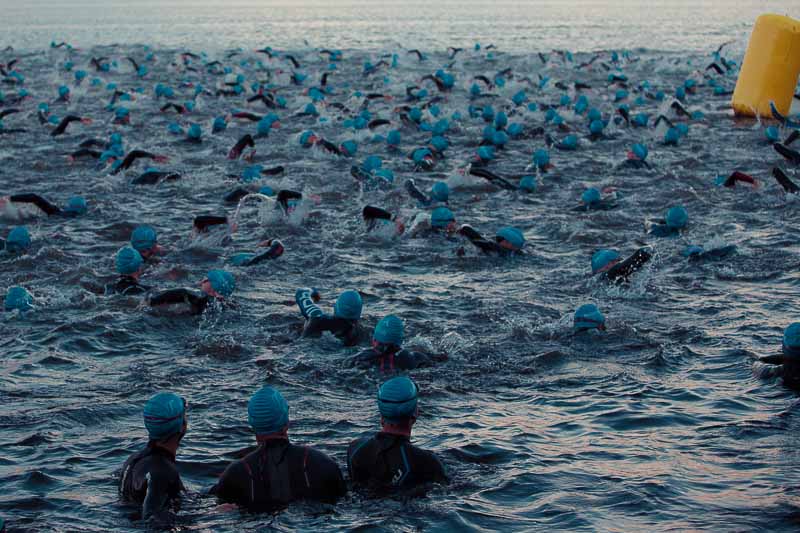 There was very little 'biff' where I was and after pushing hard for the first couple of minutes I was able to ease back to my normal (single) pace and just concentrate on swimming efficiently and close to people to try and get any drafting effect. The water was close to being a little too warm in my wetsuit but I had no complaints.
At the end of the first lap I came out of the water and during the land-based short run I got a big shout (I think from Nick R.), managed to pull a face at the photographer and then headed back in for the second lap. My watch said 28 minutes something (the official split was 28:40). Ridiculously quick for my standards.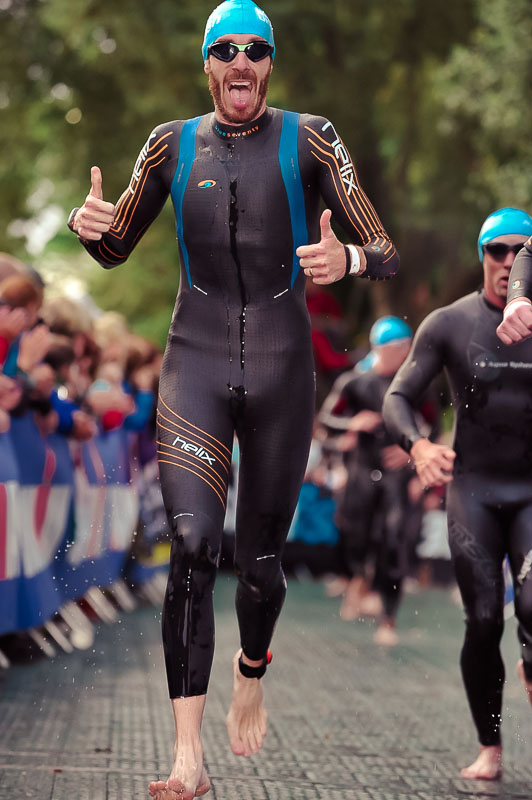 Half way through the 3.8km swim.
Amusingly my heart rate monitor, which doesn't work underwater did give me a reading during the short run. Around 160bpm. This was fairly high for me. I've no idea what it is during swimming though. In the run from the water to T1 my heart rate averaged 174bpm.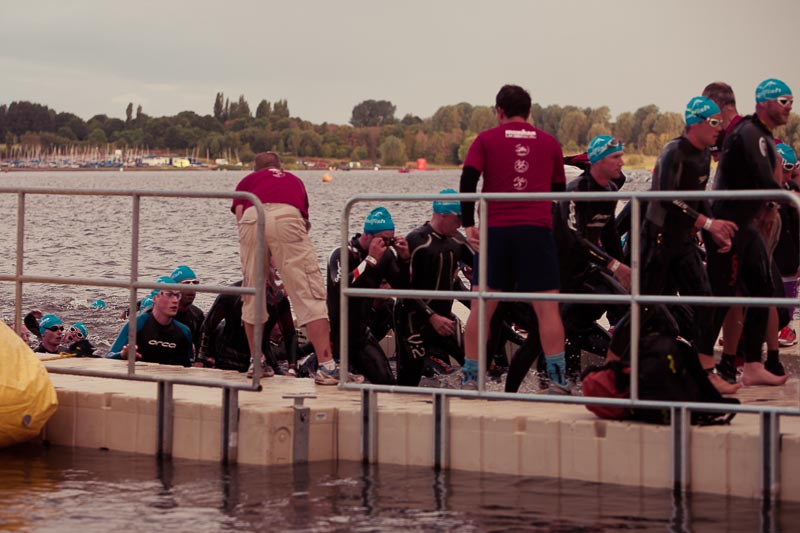 The swim exit was rather busy!
I jumped back in the lake, hit my foot on a submerged rock and then settled into my second lap. Still not much punching and kicking. I was really close to people and there was plenty of contact but nothing to complain about. Turning around the final buoy the sun had peeked through some clouds and was making sighting a right pain. Before long I was at the swim finish. I came out of the water and started the run to transition, removing the upper half of my wetsuit on the way.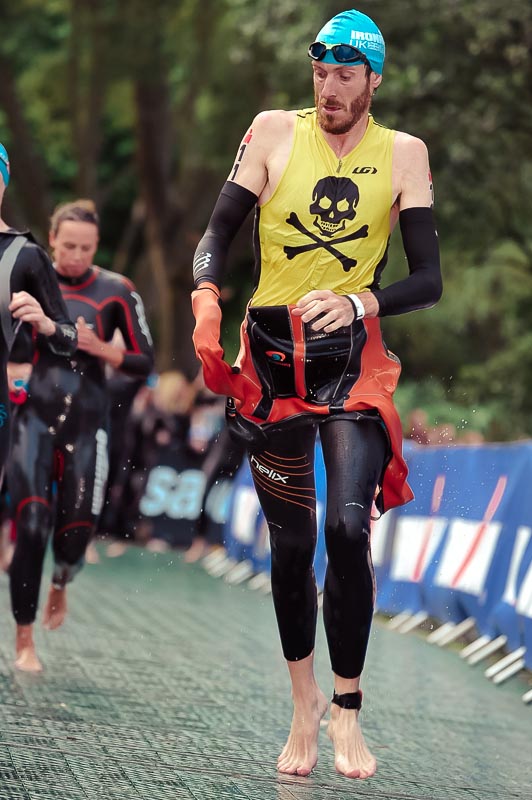 At the end of the swim running to the T1 change tent.
Swim time: 1:00:15
Position: 113th out of the water, 15th in age group (out of 309 who started the race).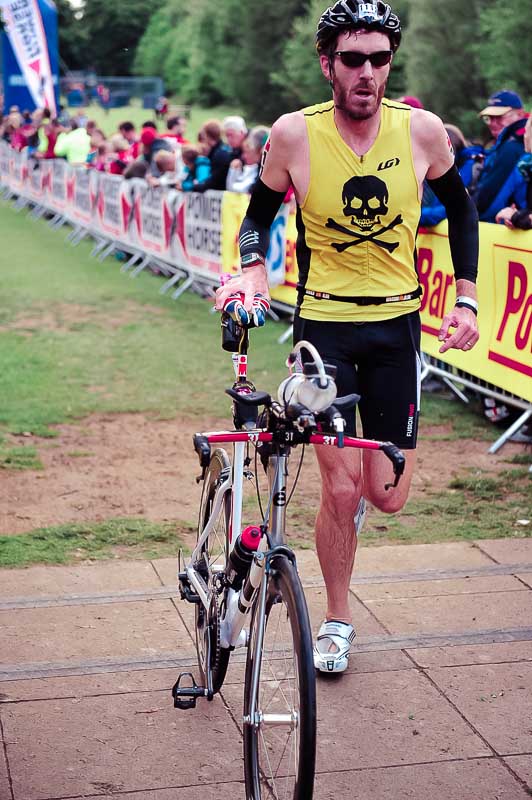 About to start the 180k (112 mile) bike.
As I ran into the transition 1 changing tent I grabbed my bike bag, found a chair to sit on, emptied my transition bag on the floor and proceeded to get out of my wetsuit. One of the 'helpers' in transition started to pull my wetsuit legs and it got caught on my electronic timing chip. He tugged a little more, so much so that the leg on the plastic chair buckled and forced me to fall onto the floor. I suggested that it was best that I carried on with it myself and he stepped back. I left the tent, ran to my bike (I'd forgotten exactly which rack my bike was in and went one too far - even though I'd paced it all out earlier - never mind). Grabbed my bike and headed to the mount point. Fellow pirate Min was the official at the bike mount and I got a cheer from her and also Sharon who was there as well.
Transition 1 time: 3 minutes 20 seconds
Position: 37th fastest T1. 4th fastest in age group.
Overall Position after T1: 88th, 13th in age group.
During transition I had moved up from 113th overall out of the water to 88th overall at the start of the bike. In my age group I had moved up from 15th to 13th. Although my transition wasn't uber-quick, I still overtook 25 people just by getting changed!
Bike
The first quarter of a mile is on the road from Pennington Flash to the main road. There were plenty of speed bumps which I was either able to cycle round the edges of (where it was flat and still proper road surface) or go over them gently. I read post race stories of people having drinks bottle ejected from their bikes going over the speed bumps. Get a different bottle, bottle cage, or do something to stop that happening.
There had been some overnight rain and some I believe during the swim (I'm not certain of this - all I knew was that the lake was wet!). The roads were wet which wasn't ideal meaning that I'd have to be a little more careful on corners and crossing any painted lines in the road (bus stops, zebra crossings, give way markings etc.).
Techy data alert…. During the first 14 miles to the main 'loops' of the course my heart rate averaged 145bpm and my normalised power was 254 watts. This was certainly more than at Ironman Lanzarote, but that was my plan. In Lanzarote my NP was 231. I was working 9 percent harder than at Lanzarote. Game on! But for how long. For those interested (and I know some of you are), this was 74% of my FTP.
The first 14 miles don't tell much, it's the remaining 98 that matter. Oh and the run that follows. At the town of Anderton we turn right onto the first of the three loops. There's a little uphill bit, then you get to the first aid station where I topped up one of my bottles and then just before 16 miles you meet the infamous Sheep House Lane. This is the main 'hill' of the course. It's bigger than all the rest but it's not like the never ending climbs of Lanzarote. Looking at my bike computer info its about 2.37 miles long with an average gradient of 5.3%. First time round it took me 12 minutes 44 to get up (NP 280 for this bit - so pushing harder than 'on the flat'). Heart rate was steady at 144 bpm (149 max).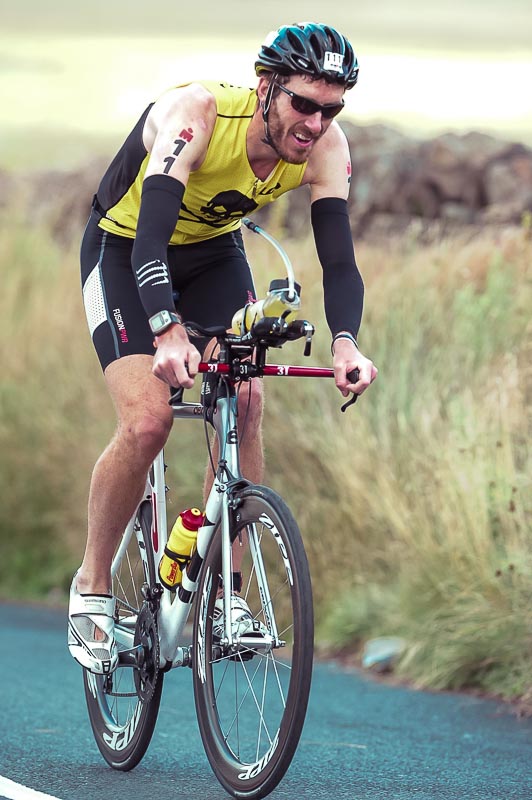 Near the top of Sheep House Lane.
Once you get to the top there's a fast sweeping descent into the town of Belmont. There's a fast left hander before you get to the town and after my recent recce ride (and also from watching the Ironman UK video from 2012 when the leader overcooked it and went over his handlebars) I knew how fast to take it. For me I find prior course knowledge invaluable.
At Belmont there were great crowds and Tom Williams was in amongst them. "Go on David Rowe" or words to that effect. The rest of the first lap was uneventful - I just pushed on, kept my effort fairly high and kept myself as aerodynamic as possible (probably about 95-98% of the ride was in my aero-bars on the bike).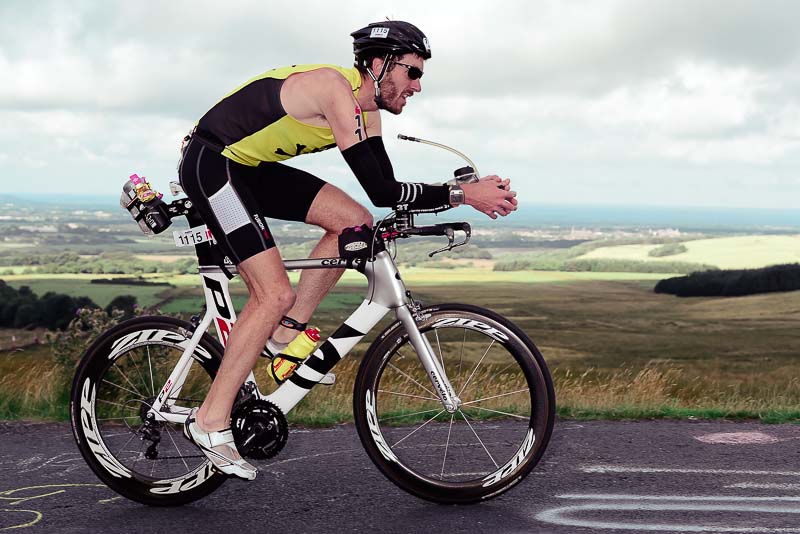 At the top of Sheep House Lane.
Starting the second lap the crowds had built. I was working hard and had this thought in the back of my head that I was going to pay for this increased effort later - that is if I could even keep it up. There was great support at the top of Sheep House Lane. The roads were drying and I found myself in amongst a group of speedy boys on the descent down to Belmont. At one point I had to shout at one guy who cut right across the road in front of me to take the racing line on a bend. It was bloody close to me going into a verge…
I remember coming through Belmont for the second time very well. As I turned to head up and out of the town I heard the words from Tom "David Rowe… Take A Risk." I was pushing hard and thought what the heck. Lets get on with it.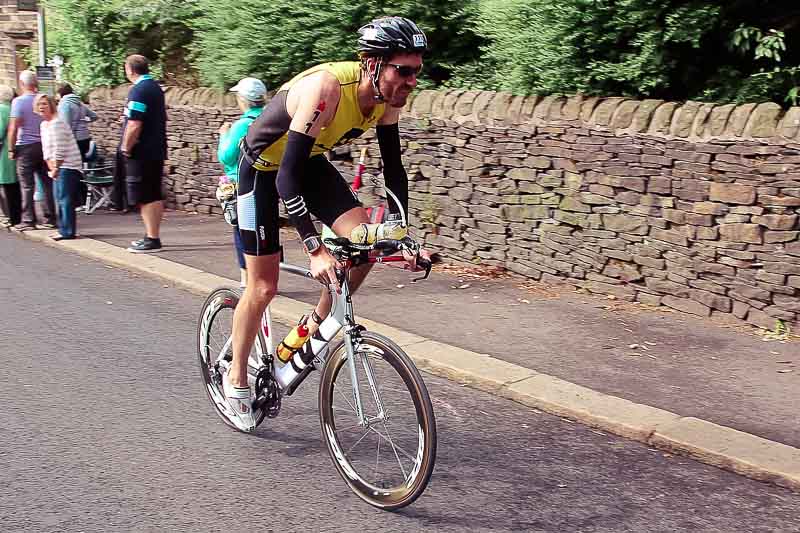 Heading out of Belmont. Photo by Martin Holden.
I soon caught up and passed Troy from Black Line London and then I remember going past female pro Jo Carritt. At around 57 miles I caught up with and remember going past another of the pro-women - Bella Bayliss. Clearly I was having a good ride (or they weren't). For the next three or four miles I remember Bella being sat right behind me (whether she was 10 meters away or not the whole time I'm not so sure…).
Coming through Buckshaw Village this is where I saw Sharon (and a friend James, who's wife Elaine was racing) for the first time. I got some cheers, I smiled and pushed on.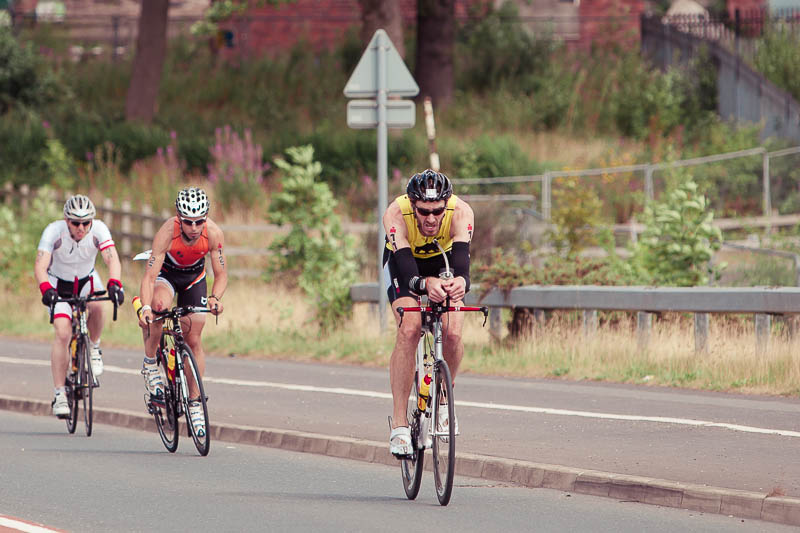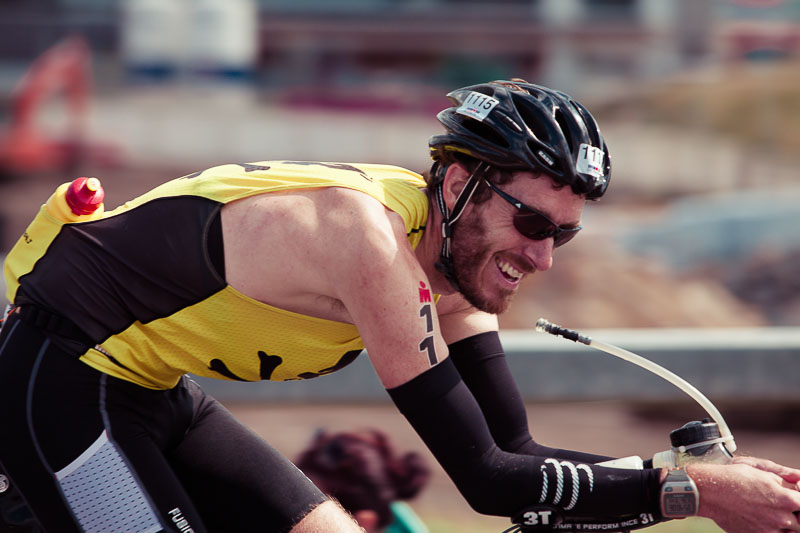 Back round the loop for the final ascent of Sheep House Lane. By this point I was lapping plenty of slower athletes so although it was great from a motivational point of view, I had to be very careful with all of this increased bike traffic on the roads. The crowds were fantastic, at the bottom and top of Sheep House Lane, and also in Anderton where you rode through 'COLT Alley' (City of Lancaster Triathlon club). Superb support.
After the final loop (these loops were taking me just over 90 minutes) you make a right hand turn and ride the last 1.5 miles to transition 2. My bike computer said 5 hours 23 minutes. I was anticipating the bike to take me nearer 5 hours 45. I'm sure I could cover the the last 1.5 miles in less than 22 minutes.
I rolled into transition 2 with a bike time of 5 hours 27 minutes and 50 seconds. My computer said exactly 112 miles. My overall time into the race at this point was 6 hours and 31 minutes. Sub 5 hours 30 was great. Although I know I couldn't quite keep up my early power on the bike I still remained pretty strong and put in what I thought was a great time.
Bike time: 5 hours 27 minutes 50 seconds
Position: 29th fastest bike split. Fastest in age group (yes, the fastest - by a whole 10 seconds!)
Overall Position after bike: 34th, 1st in age group.
By the end of the bike I had moved up from 88th overall to 34th. 54 scalps on the way round. Nice. More importantly I had moved up from 13th in my age group to first. I had absolutely no idea of any of this at the time. I just knew that I had a good bike ride, but expected there were plenty more people in my age group who had similar/better bike rides and knew how to swim.
For those wondering about nutrition - I had a gel (PowerBar Strawberry/Banana) every 20 minutes without fail along with sports drink and some water, but mostly sports drink.
Back to the techy geek talk… for the overall 112 miles I rode at approximately 74% of my FTP (wattage wise this was just under 9 percent more effort than in Lanzarote). My VI was 1.03 (that's good) and I rode at 3.04 watts/kg. Heart rate averaged 145bpm. Cadence was 88. For graphs etc. feel free to have a look at the data on TrainingPeaks.
I think that rather than pushing beyond myself during the bike I actually pushed hard, but not too hard. Lanzarote it's clear that I was taking it fairly 'easy.' I rode at approx 68% of my FTP. Based on a table shown at the TrainingPeaks website it shows that 68% and a 6 hour bike ride puts me in the "Good range for most age group athletes with good preparation" category. This set me up for a good run. I believe nutrition caused my problems on the run.
At Ironman UK my bike figures when put into the table at TrainingPeaks put me right in the "For proven, strong Ironman runners only." That's nice to read.
I like this statement from the above blog post:
"The goal on the bike is not to produce the fastest time possible, but rather the time that will leave the athlete with enough spring in the legs to actually run the marathon. A maximally fast bike time means a 26.2 mile walk. Such a marathon always leads the dejected athlete to believe he or she is simply a poor runner. That's seldom the case. It is usually a bike-related issue." - Jo Friel, TrainingPeaks.com
Transition 2
At T2 you get off your bike, run with it only for a few seconds and hand it to someone who racks it away for you. You then run through a school playground, up some steps, across some grass and into the school sports hall where you get your run bag and then get ready for the run.
Transition 2 time: 2 minutes 0 seconds
Position: 20th fastest T2. 4th fastest T2 in age group (the fastest in my age group was 1:40).
Overall Position after T2: 31st, 1st in age group.
During the bike to run transition I had moved up from 34th to 31st - thus overtaking three people in the changing area. I tell you, I really try not to waste time in transition.
The Run
This was going to be interesting…. I had pushed hard on the bike and was prepared to 'blow up' at some point - in a much bigger way than in Lanzarote. There weren't many other people running around me and I got into a steady pace for the first few miles. The first few miles are for the most part flat or downhill. My plan was to try and run close to 8 minute miling - which is a 3:30 marathon. My best Ironman marathon to date has been at Challenge Roth in 2009 where I ran 3:35 (on a short course - so that doesn't really count). I'm more of a 3:45 Ironman marathon runner.
I really was prepared to fail with this fairly ambitious (for me) bike ride and run pace.
I was aiming for 8 minute miling and after the first few miles I was averaging 7:56 miling. There's a section where you run alongside Middle Brook, a stream that merges into the River Croal which goes between Bolton and Manchester. During this section I remember being overtaken by three people in my age category…
How could I tell they were in my age category? Well, they 'should' have a sticker/tattoo on their calf with the letter 'E' on it (that means 40-44). Some people however have these markings covered by long socks. The other way is to look at their race number or numbering on their arms. I knew 40-44 was in the range of around 890-1300. I couldn't remember the exact numbers.
As these chaps ran past me (making me feel like I was standing still) all I could think to myself was that I need to learn to run quickly in the marathon. I've run a 3:09 standalone marathon and that's what I'm going to have to do to be competitive. These guys just flew past me. If three had come past me now, what was going to happen later and how many strong guys were there who swam quicker and rode quicker than me. In my mind there must have been plenty.
Little did I know.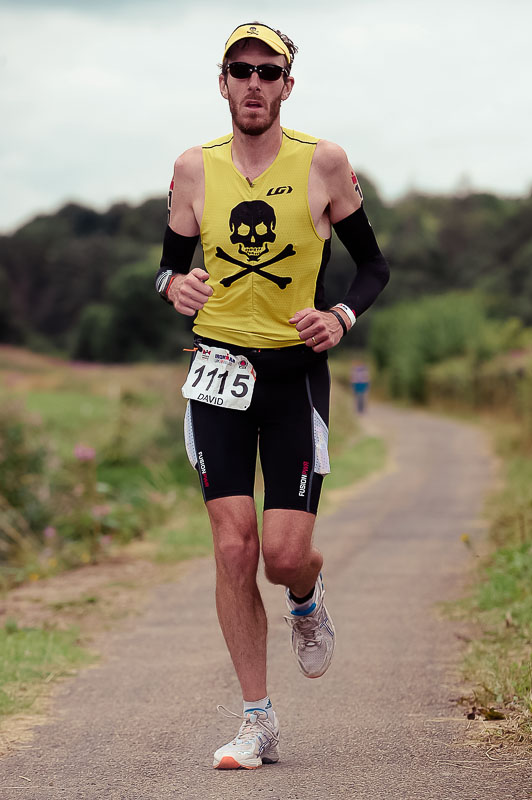 After the first few miles. Notice the complete lack of people behind me at this point.
You then get a sharp uphill section which takes you up to the main out-and-back part of the course, which you would do three and a half times to make up the rest of the marathon. The uphill was nasty but I pushed on. At the top I saw friends Emma and Mike who said I looked good and asked if I'd seen Sharon. I hadn't yet on the run. I told them she'd no doubt be along soon. I saw her and James a few minutes later. The huge shouts of encouragement from them both were great.
You then join part way through the main run loops, head to the 'far' turnaround and back into town. Once you get to town you do these loops of about 5.6 miles 3 further times. Each loop starts with a 1.6 mile uphill section with a grade of around 2%. It ends with the same and there's a little lumpy bit in the middle. Coming in and out of the town centre of Bolton there's a short steep climb/descent. Very cruel! Simply put you run around in circles for a few hours with a loop through the town centre - which was heaving with people - superb support. I'd say the only flat piece of the course is a very small segment in the town centre - apart from that its all up or down.
Coming out of town about 10.5 miles in I saw Tom again who'd taken up position on the short sharp hill. He said something like "It's time to push on now" or words to that effect. You must be joking mate. Everyone (who does these kind of ridiculous distance races) knows a marathon is in two halves - the first 20 miles and the final 6.2!!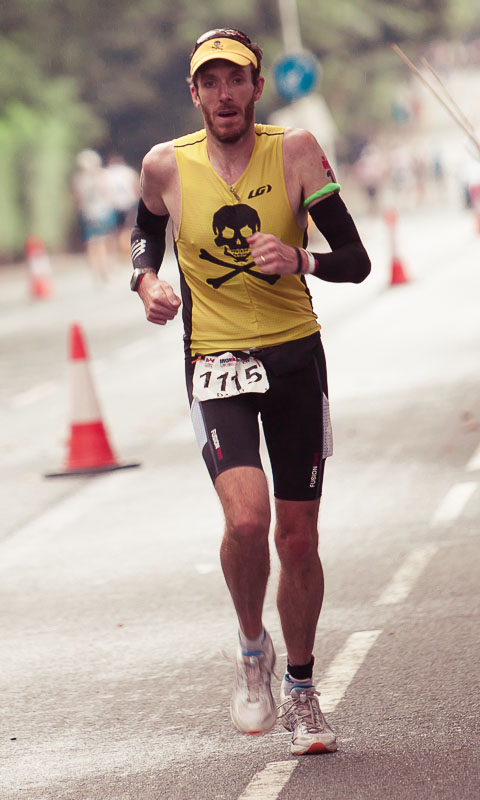 My only plan at this point was to just keep running steady and more importantly religiously take on board energy gels every 20 minutes or as close to as possible. I would aim to take one just before an aid station, collect a 'new' one at the aid station and then wash it all down with sports drink and water. The 'new' gel would then be stashed away in my shorts pocket for when I got close to the next aid station. I also had a spare gel tucked away (just in case).
The support on the course was incredible. Being a pirate (if you have no idea what I'm on about then have a look at the PSOF website http://www.pirateshipoffools.co.uk/ ) is awesome. The on course support is just incredible. People who you don't know will shout 'Go On Pirate' or similar. Children love it (especially if you go 'aarrrgghhh' when they yell support at you). I just couldn't believe the amount of piratey support I was getting - especially in the town centre section. I couldn't stop smiling. Well, on the first lap that is. After that it was more of a grunt and a little thumbs up if I could. It meant so much hearing the support, but I couldn't always respond. I had other things on my mind - such as working hard and keeping the effort up although my body was telling me that it would much rather be sat down resting! The pirate kit has no writing on it, you don't need to know who we represent - you just need to know that (most of us) are a really friendly bunch of people who are happy to don the unflattering yellow and black outfits and look like idiots in lycra. It's awesome!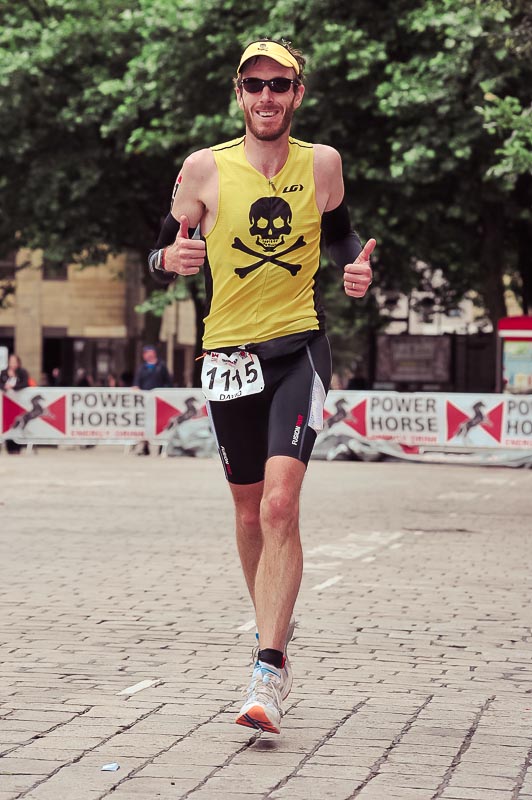 Things are going well.
As the miles ticked by I wasn't fully aware of how many people I'd overtaken or how many had overtaken me. I think I'd probably overtaken more than had come past me as I felt strong (well, relatively speaking that is!). I wasn't really thinking about position - I was just hanging on for as long as possible and wondering when the effort on the bike would come to haunt me. Well… it didn't.
Each time I came in and out of the town centre Tom would be there on the 'hill' shouting words of encouragement….
"Leave it out on the course. Do not hold anything back. Every second counts. Take a chance."
I do remember coming out of town shortly after 16 miles and him saying to me "You've got a chance to qualify."
So… what does it take to qualify. From ironman.com…
Q. How do I qualify for the 2013 IRONMAN World Championship? Athletes gain entry into the 2013 IRONMAN World Championship one of three ways: by earning a slot at one of the qualifying events held worldwide, by being selected in the IRONMAN Lottery or by winning a slot through the IRONMAN charitable eBay Auction. Official qualifying events award IRONMAN World Championship slots to their top Age Group finishers. Qualifying races are one of two distances: 1.2-mile swim, 56-mile bike, 13.1-mile run or 2.4-mile swim, 112-mile bike, 26.2-mile run.
Ironman UK has 50 qualifying slots for the championships. These are distributed amongst the age groups based on the number of race starters in each age group. Last year there were seven slots in the M40-44 age group. I guessed the same would probably apply for this year. Not that it mattered one bit.
After hearing the words from Tom I made the assumption that I was perhaps 10th, or maybe 9th if I was lucky. Coming into the race I honestly thought that if I had the race of my dreams then I could maybe finish 10th in my age group. I honestly believed that. Anything can happen in the final miles. I had to run at a pace that I could maintain for the next 10 miles. I knew I was still running strong and I probably had about 80 minutes running remaining. There's a long way to go. I just had to keep pushing…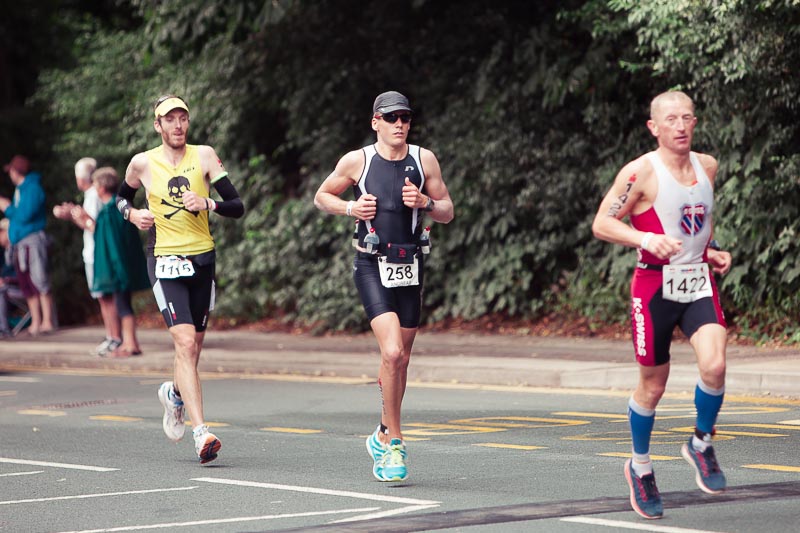 More super support from Sharon, James, Mike and Emma in the out of town part of the course. Some nice cheers from the Black Line London support crew and also the many strangers who just knew me as 'pirate.'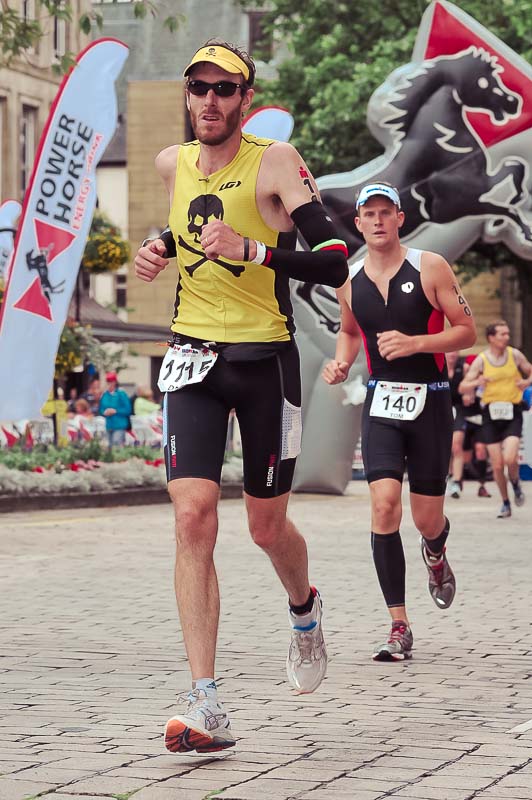 Notice that I have two 'hair bands' on my arm. This puts me about 12 miles ahead of the chap behind me at this point.
I remember running close to one other guy in my age group for a good couple of miles or so. He was getting some great support from friends/family and I was just trying to tuck in close behind him and be un-noticed for a while. My legs were hurting and I wasn't able to easily get past him. At this point wearing the pirate kit can be a bad thing. I was getting shouts left right and centre. I couldn't hide! I made a push I believe towards the out of town aid station and didn't look back. Coming back towards town I remember seeing his supporters again ready to take a photo of him. They gave me a big cheer (that was nice, thanks) and then I heard them cheer him a few seconds later. Without me having to look behind I could tell from this that he was a little way back, but still close by. As a general rule in races you should NEVER look back behind you during a race. It shows that you're worried. The person behind you will then see this and think that with a little more effort they can perhaps catch up and get past you). Listening to the shouts he got gave me the same information without having to look back. On the Ironman UK course in Bolton there's a couple of 180 degree turns so you can use these to see what's happening behind (or in front of) you.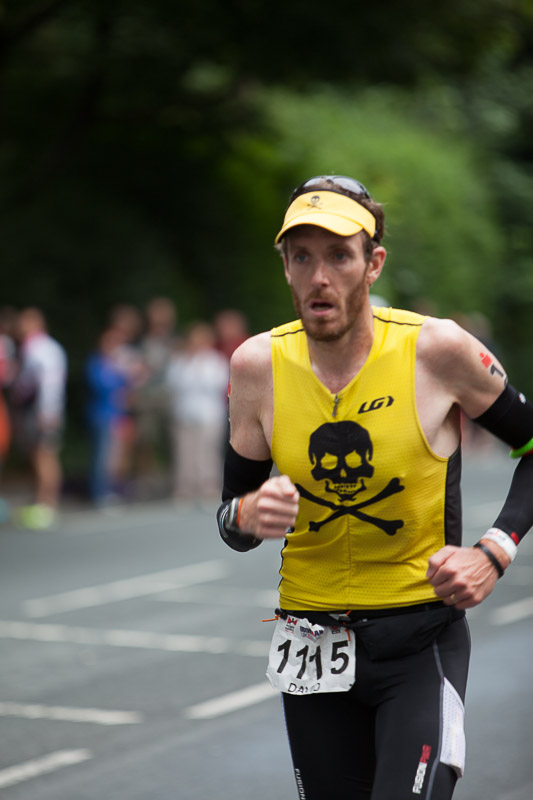 Pain face!
My pacing so far had been perfect. I was averaging a little under 8 minute miling which on this lumpy course was much better than I've managed in the past. I was feeling good and was starting to pick up the pace. Only 10k left. I can dig really really deep for that. No pressure right? I had no idea how I was doing. All I knew was that I believed that I was holding my position - whatever that may have been - pretty well. The last 10k (6 miles or so) is when the unexpected can happen. Energy runs out, legs seize up. Plenty can go wrong in the last hour of the race.
At around 22 miles I was heading back out of town for the final time. Tom said he'd seen a couple of people in my age group up ahead who he'd seen walking - presumably up the steep hill. Maybe he was making this up to get me even more motivated to dig in. I don't know. I really should ask him. I'd also like to know what was written on his clipboard that he had that day (he was supporting a couple of friends who he's been helping on their Ironman journey.)
I was pushing hard and and on the long drag up and out of town I was getting quicker. This in turn made me feel stronger and more motivated to work harder at it. I knew it'd all be over in say 45 minutes so I had to give everything I could on the course. Leave nothing out there. I saw one of the guys in my age group close up ahead. I had to pass him with force, with energy. I didn't want to show any weakness. I wanted him to immediately think that he wouldn't be able to keep up with me.
So that's what I did. I ran the two miles or so up Chorley New Road at around 7:30 miling. This is almost entirely ever so slightly uphill. Surely this would be forceful enough. I'd only find out at the turnaround. As I went around the final turnaround at 23.5 miles the splits showed me 22 seconds ahead of him. This was good but not good enough. I had to push on. This could well be the difference between 10th and 9th overall in my age group. It could be 15th or 14th. It could be 7th or 8th (Tom did say that I could qualify a few miles back). I just didn't know.
Wearing the bright yellow pirate kit and being close to 6 feet 4 inches tall I find it difficult to 'hide' when on the course. If there were groups of (slower) runners ahead I would try and get in front of them so that I was harder to see. I wouldn't run on very exposed sides of the road. I wanted to be out of this chaps mind (and sight)!
During the run there were a couple of other pirates out racing. Elaine was running well and Jo had her race face on. They were doing brilliantly. Silent acknowledgement/smiles and hand signals were occasionally exchanged when we passed in different directions.
I remember looking at my watch on the final run back into town. I was running 7:04 miling (!!!) at this point. My watch said something like 9 hours 50 minutes or so. It looked like I'd be able to get a new personal best time today. My previous PB was 10:10:58 at Challenge Roth in 2010. That is a fast (and slightly short) course. Ironman UK was looking like an accurate course to me. OK, so the swim may have been 100m short, but the run was looking full distance and my bike computer clocked 112 miles so that's good enough. On top of this it is one of the hard courses on the Ironman circuit. A PB on this course would be amazing. All I was concentrating on was running as fast as I could and getting to that finish line as quickly as possible. Time was irrelevant and position, well, I just wanted to make sure I wasn't caught by the guy who I went past some minutes before.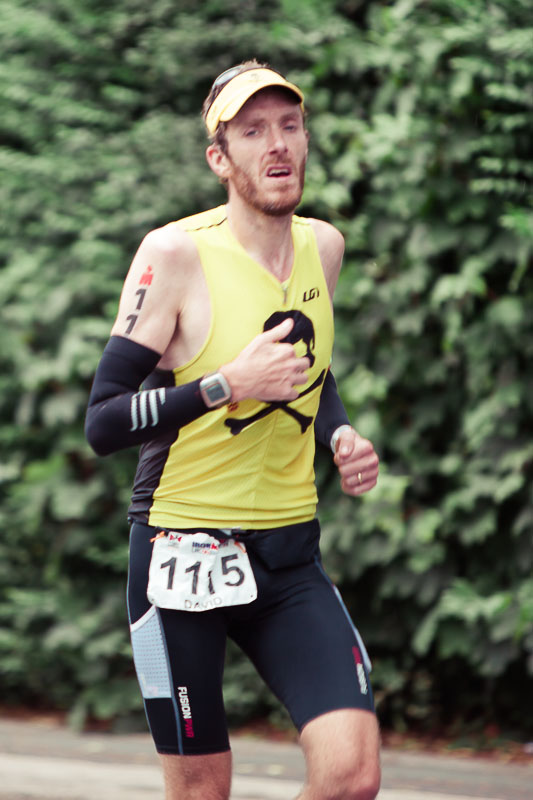 This is my attempt to acknowledge the support from Sharon and some other friends. I was working hard here!
Coming into town for the final time was amazing. Loads of 'go pirate' shouts (which I had trouble acknowleging). Knowing that I was almost finished was great. All the pain in the legs (and oh yes, there was plenty of that in my quads) goes away. I just wanted to get to the line as quickly as possible.
Showing my three coloured wrist-bands (which mean I've done three laps - each at increasing paces - 7:54 miling, 7:41 miling, 7:18 miling for the same 5.6m 'loop') I flashed them at the marshall lady who was guarding the entrance to the finishing area. I had run past her three times already jokingly waving my bare arm, first band and second band asking if I could finish and I was turned away. It was funny. This time I was allowed in. We high-fived each other and I ran into finish.
I had no idea what time it was and how long the finishing area would be. I saw the start of the finish chute carpet and then you turn left. There's about 50m to the finish line from here. Running towards the finish I looked up and saw the clock. It said something like 9 hours 59 minutes and 40 seconds when I saw it. Oh, I had time to kill! I slowed down, couldn't believe the time and then strolled over the line with a time of 9:59:55. 'Safely' under 10 hours.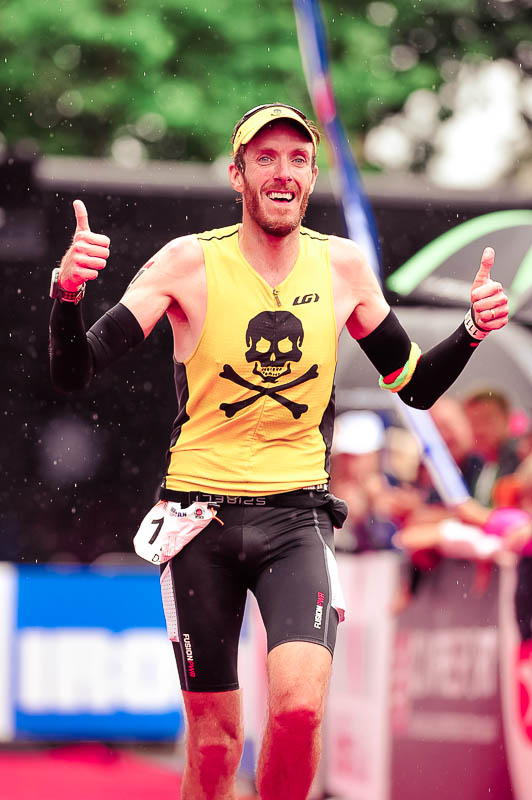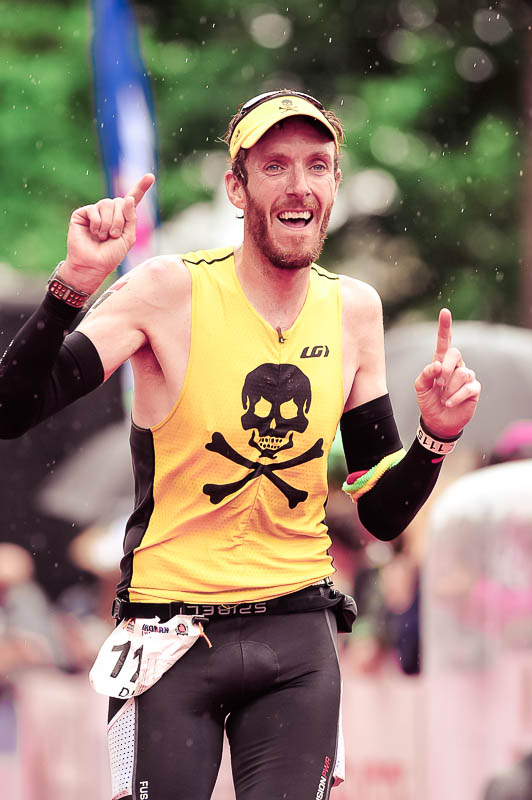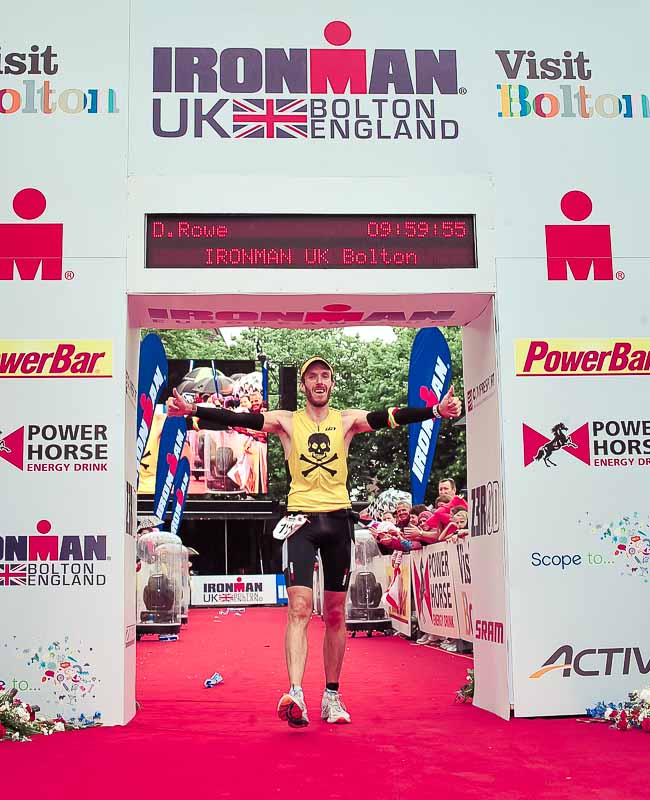 Crossing the line I just couldn't believe it. I was overjoyed when I finished Ironman Lanzarote in May with a time of 10 hours 58. I was almost an hour quicker today, on a course that is easier than Lanzarote but still regarded as tough.
After crossing the line and collecting my medal I went inside the 'recovery tent', got myself a few cups of coke and had a drink. I then collected my post race clothes bag and walked round to see Sharon, Mike and Emma who were by the finish. Tons of celebrations. I'd gone sub-10. What a time. Brilliant. I had no idea how I did in my age group. Sharon said something about Paul D. tweeting her earlier in the day saying that I was first in my age group off of the bike. That's the first I knew about being first off of the bike.

Twitter message from Paul to Sharon just after I started the run.
They may have told me that I won my age group but I didn't hear it (or refused to)! After putting some warm clothes on I headed back to the finish area to get some more food and drink. In the tent I saw Paul and Troy who'd just finished after a tough day and then I grabbed a drink (coke), some food (pizza) and sat down. I got my phone out and went online to look at the results.
Oh my god! This is what I saw.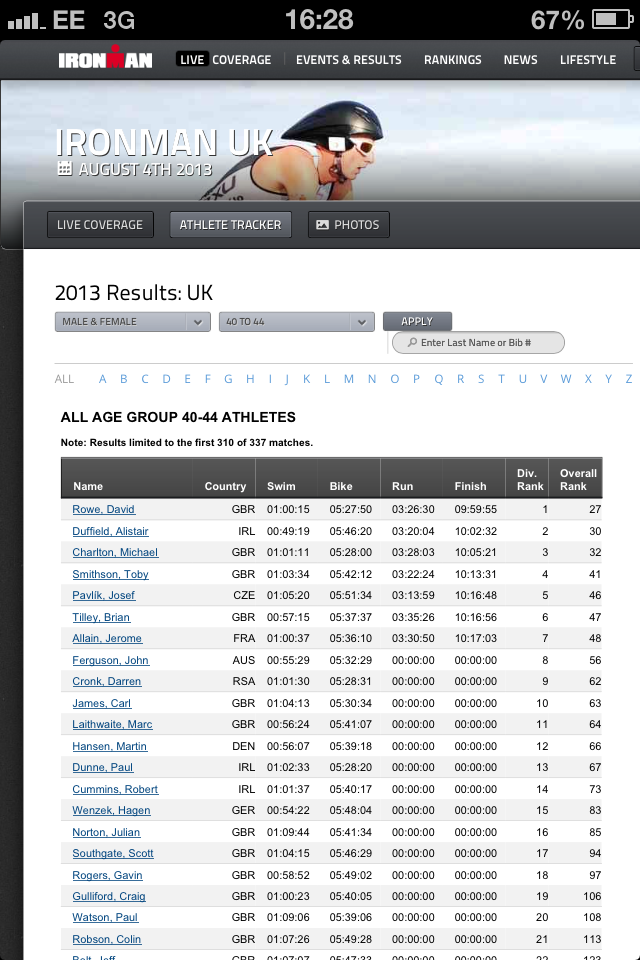 My age group results from my phone. Note that when I looked at this only the first 7 people my age group had finished at that point.
I had won. Won my age group. First. Nobody beat me! When I got past those chaps nearer the end of the run I was running into the lead. This is ridiculous. I never came here to win. I never came here to qualify. Coming first (well, second-seventh as well in the M40-44 age group) means automatic qualification for the Ironman World Championships. This is f**king ridiculous. When I was told I "could qualify" during the run this surely meant that I was close-ish to getting a place. My lowest position during the run was 5th. I was 'safe' all along. Of course if I had known that at the time and eased off then I would have maybe been caught up by some of the others behind me and things could have turned out differently. All I did on the day was run at a pace I felt (hoped) I could sustain and then give it everything during the last 6 miles or so.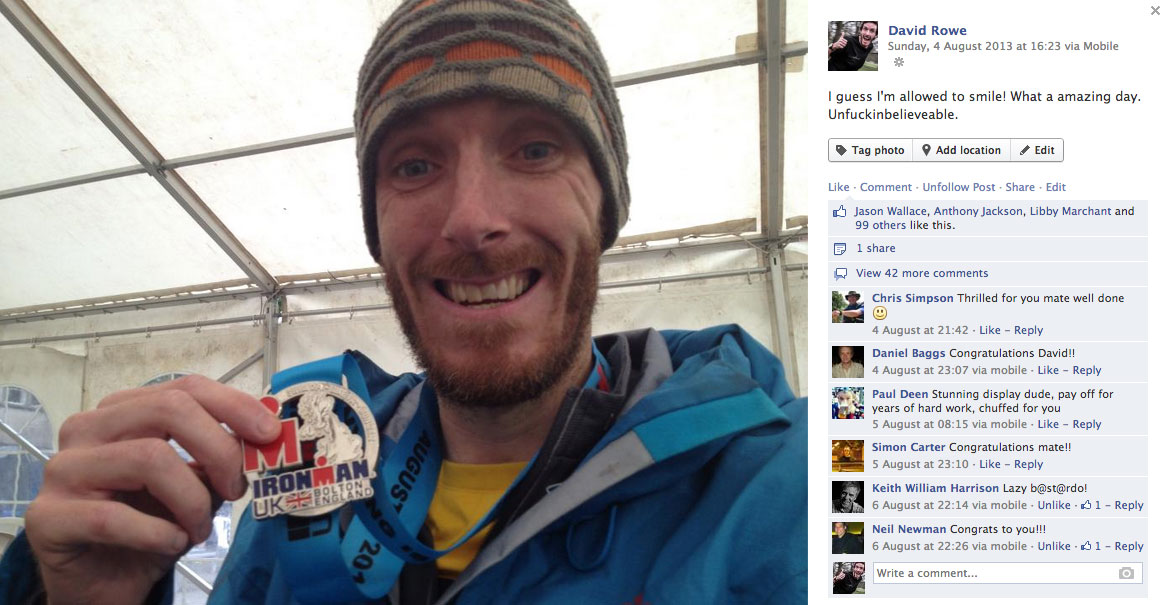 Shortly after the race I posted this self portrait photo on facebook. Plenty of people seemed to like it.
Twitter had been going bonkers all day. Here's just a few messages where I was mentioned in the latter part of the race.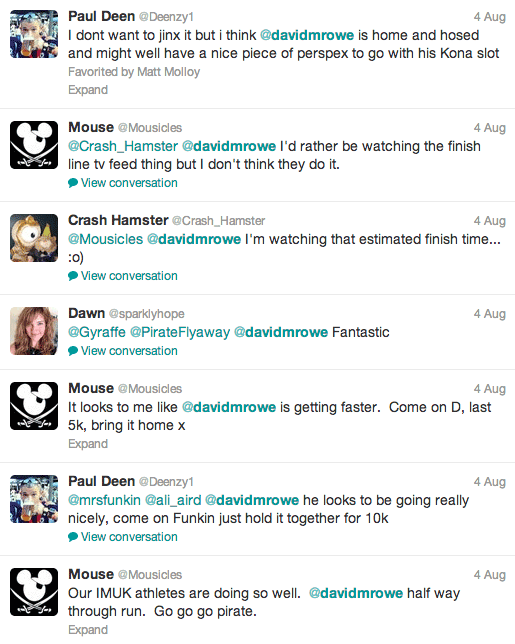 I sat in disbelief. Here's a photo where I'm in the background (with the hat on) with my head in my hands looking at the results and just being in absolute shock.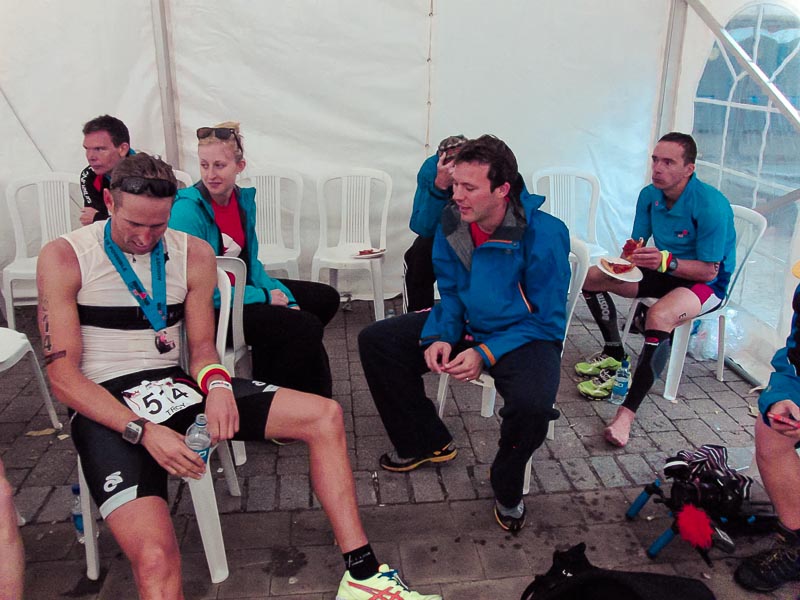 I'm at the back with my head in my hands after looking at the results. Photo: SportPursuit
After the race someone (well, not just any old someone, a chap by the name of 'TC' on tritalk.co.uk) posted on the website forum…
SUB 10 YELLOW AG WINNING GOING TO KONA IRONMAN LEGEND. You rolled every dice and hit 3 sixes, absolutely awesome.
It's fair to say I had a good day! So… qualified for Kona. Unbelievable. It just wouldn't sink in. Surely there's a mistake. Really. I'll believe it when I see it. Well.. I've seen it. It's there online at the ironman.com website. First. I sent the results to Sharon. She replied to my text with just a ton of little heart graphics.
Run time: 3 hours 26 minutes 30 seconds
Position: 39th fastest run split (fastest overall was 2:52:23). 4th fastest run split in age group (fastest was 3:13:59).
Overall Position after run: 27th, 1st in age group. There were 11 professional athletes ahead of me.
My GPS measured the run at 26.66 miles. When you look close up it does get confused, especially in the town centre. Lets assume that the run is bang on 26.2 miles. In that case my average pace was 7:52 minute miling across the run. That'll do nicely. Average heart rate during the run was 148bpm. Just looking at a comparison, at the London Marathon this year I ran 3:26:14 (so 16 seconds quicker) and my average heart rate was 156bpm.
Here's a link to the TrainingPeaks data for my run.
So, during the marathon in the overall results I moved up from 31st to 27th. More importantly I finished in the same age group position as I started the run in - first. I dropped to fifth in my age group at one point but recovered during the latter miles to return back to first. Of course I had no idea about any of this at the time.
Shortly afterwards I headed back to Sharon and we strolled back to the car as we had to drive and collect my bike from T2. When we collected my bike it was now pouring with rain - I was so happy to have been finished before the weather really turned for the worse. We then headed back to the hotel for an hour or so where I relaxed a little, had a shower and went to the bar for a drink. Her support on the day was great. Compared to Challenge Roth 2010 where I think I saw her only once during the whole day (in the finishing chute!) this time I saw her at the start of the bike, on two of the laps and then on multiple times during the run. I've never seen so much of her during a race.
I've never been so happy taking 300 quid out of a cashpoint!
Then it was back in the car to drive back to Bolton (via a cash machine) to cheer and support the last few hours of finishers. The end of Ironman race day is one of the best parts of these races. I was lucky to finish in just under 10 hours. These people are finishing in 15, 16, 17 hours. They have had a seriously long day out there and I really wanted to be there with my medal round my neck cheering and supporting these Ironmen and women. It is such a fun atmosphere.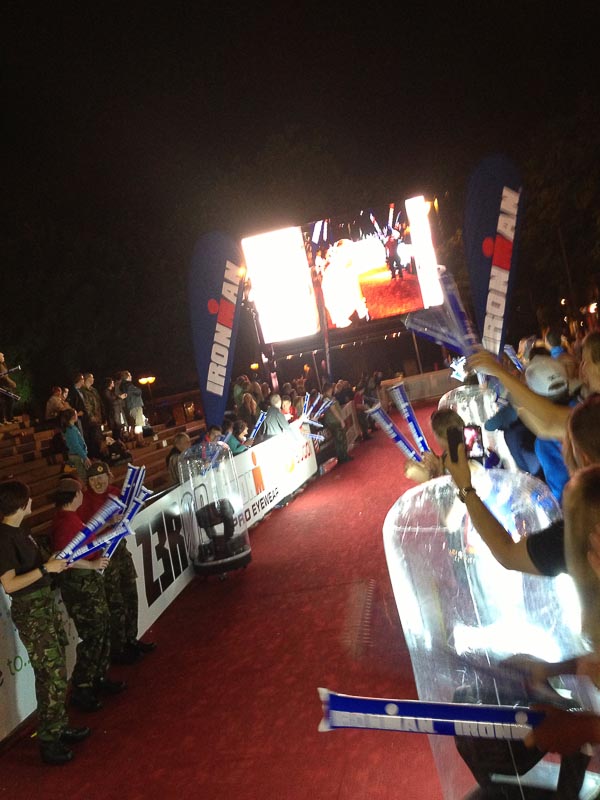 Finish line party.
Looking at the previous races I've done (IM Switzerland, Challenge Roth, Challenge Wanaka, The Outlaw, IM Lanzarote) at every race Sharon and I have stood there cheering in the final finishers up until the cut-off time. I just couldn't leave the race site, go back to my hotel and 'relax' knowing that people were out still doing the same race that I had finished earlier. It's also a lovely touch at these races in that the male and female overall winners normally come back and hand out the medals during the final hour or so. So, back at the finish line we were, with some other friends including Elaine (2nd in her age group). After the final person crossed the line (after the 17 hour cut-off) at about 11:15pm (remember, the race started at 6am) we headed back to the hotel.
How the race panned out
I follow lots of different triathlon related blogs and one of the finest ones out there is by Russel Cox. He does some superb analysis of races amongst other bits and pieces and based on a spreadsheet of splits from this years Ironman UK race I've created a graph (based on one of his graphs) showing how the M40-44 age group race unfolded. The graph is based on time differences between the current leader and everyone else. I think you'll be able to see how it works fairly easily. It's a fantastic way to see how a race unfolds.
The image is best viewed huge so give it click and load it into a new window then have a read of my thoughts beneath it.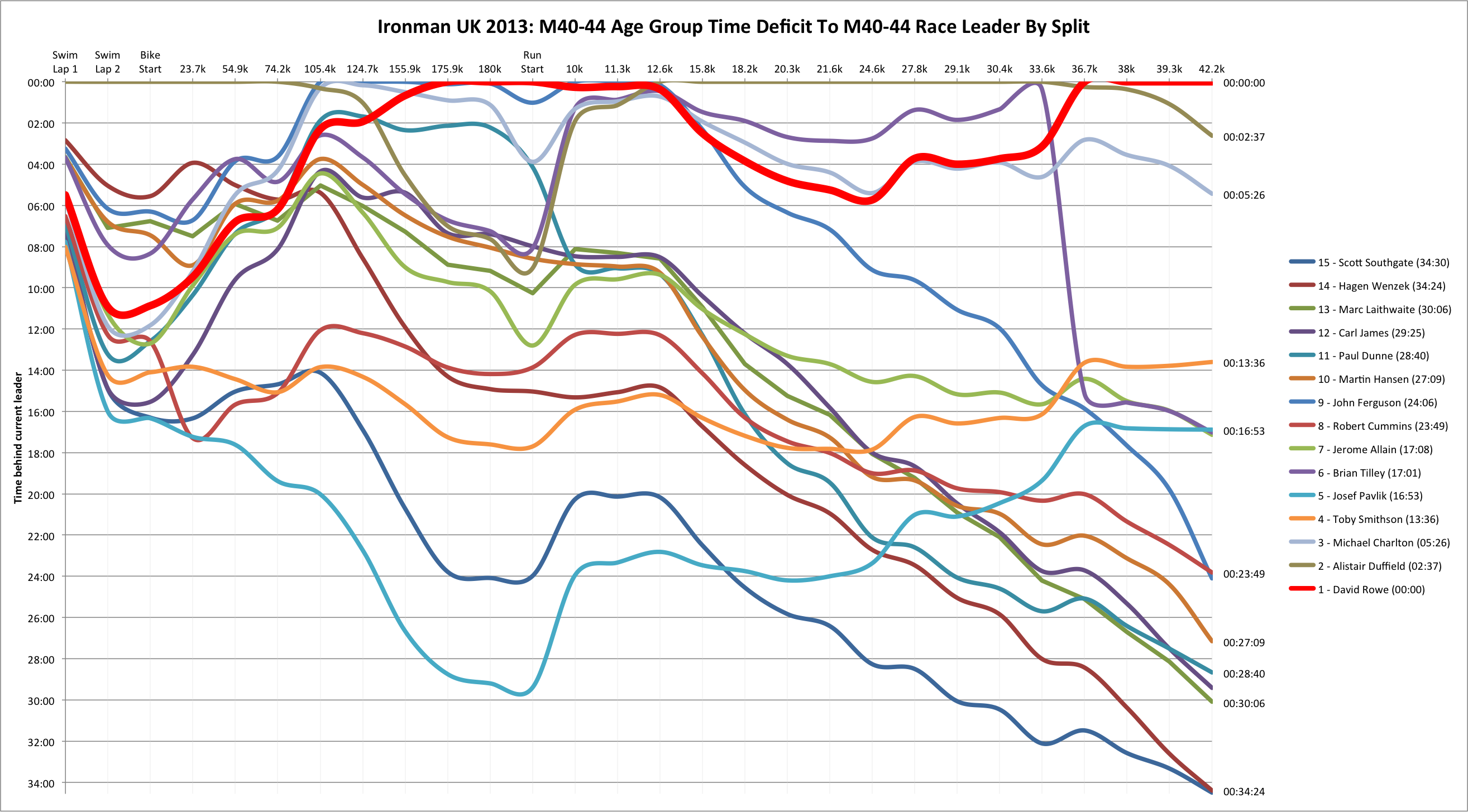 Looking at the graph we can see at the top that Alistair Duffield had a superb swim (49:49) compared with my (1:00:15). He's just under 11 minutes up on me before I'm even on the bike. The closest to him out of the water was Hagen Wenzek (54:22 swim). Hagen then drifted down the field from 2nd place to finish in 14th overall.
Alistair seemed to have dropped off of the pace on the bike shortly after 100km. John Ferguson and Michael Charlton moved up into first and second place for a while and there was only 10 seconds between them at 124.7k.
As you can see in the big red line (that's me) I started moving up the field during the bike leg. At the start I was 10:52 behind the leader, by 155.9k I was up to third place (there was 40 seconds separating the top three). By the time we got to 180k and the end of the bike I was in the lead. Second place at this point, John Ferguson was 5 seconds behind me and Michael Charlton was 1:07 behind.
Then the run started… at 12.6k I was third. The top five in my age group were separated by 43 seconds. It was so close but I didn't have a single clue about it! Alistair was having a superb run after starting 9 minutes behind me. He had moved into the lead and he remained there until 33.6k. Closing in on him was Brian Tilley (they were 23 seconds apart at this point). Myself… after dropping back to 5 minutes 44 off of the lead at 24.6k I was closing in. At 33.6k I was 3:08 back in third. Then it all changed. By the 36.7k timing mat I had moved into the lead, Alistair was 15 seconds behind me and Brian had lost just over 15 minutes on us. This allowed Michael Charlton to move into third place.
Alistair was working hard as by 38k (1.3k later) I had only taken another 7 seconds out of him (he was 22 seconds back). I really dug in during the final miles (as my writing further up says) and from here I started to open a bigger lead. By 39.3k the gap to second place was 1:05 and a few minutes later at the finish I had extended my lead to 2 minutes 37 seconds! I finished in 9:59:55, Alistair finished in 10:02:32 and Michael finished third in 10:05:21. The fourth finisher was 10:13:31.
What a race. At least I thought so. Had the race not gone so well for me then perhaps I wouldn't have written any of the above.
Post Race - The Following Day
Let's just say that we didn't sleep very well that night. We awoke early, got the car loaded, had breakfast at the hotel and then headed to the Reebok Stadium, which is where the awards ceremony/brunch would be held. Oh, and the Hawaii registration :)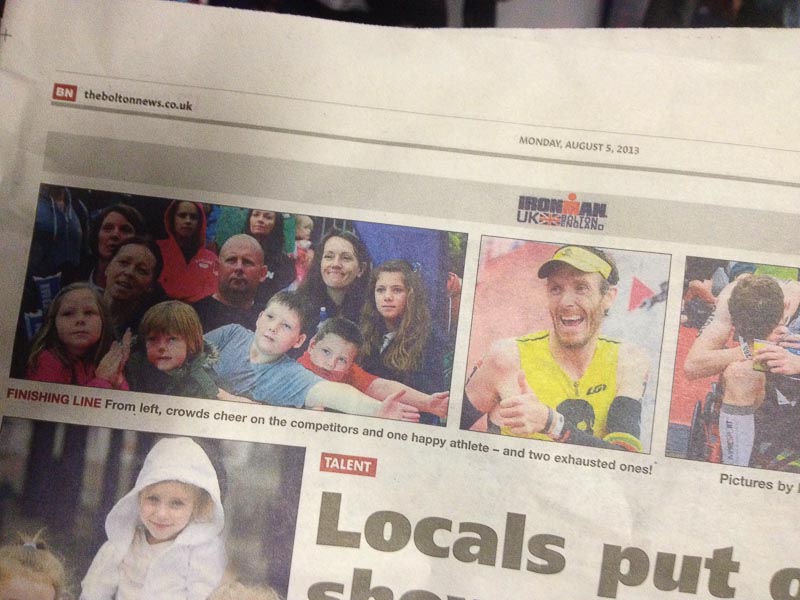 Page three of the Bolton News the following day!
At 8:30am the results at put up on the wall. If your name is highlighted then you're in. In the M40-44 age group there were seven slots. In the M70+ category there were no entrants so the single slot for that age group was moved to the busiest male age group (M40-44). This increased the slots from seven to eight. Someone would be very happy about this.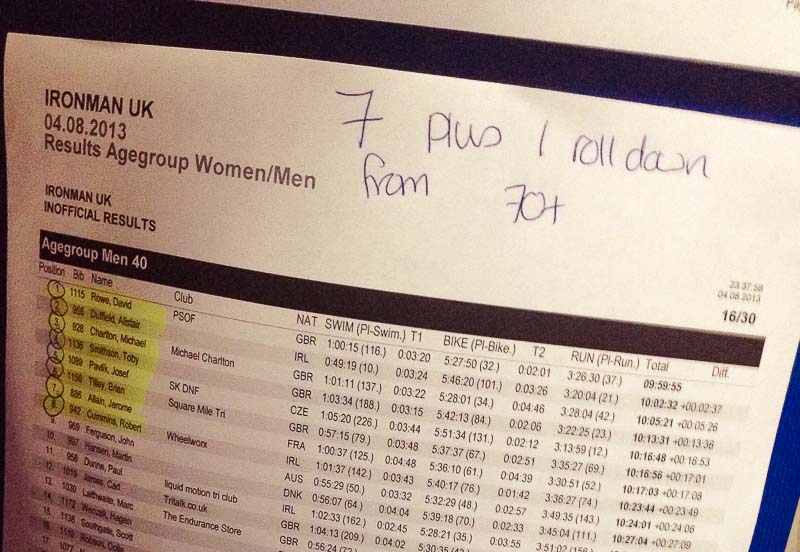 Race results.
We then joined a short queue and I signed my life away and handed over most of the money we'd taken out of the cash machine a few hours earlier.
The business bods behind Ironman have got this perfected. Let me get this right… I pay to enter a race (Ironman UK) and if I do really well my prize is the opportunity to enter another race (the World Championships) and hand over a few more hundred pounds. Genius. Absolute genius.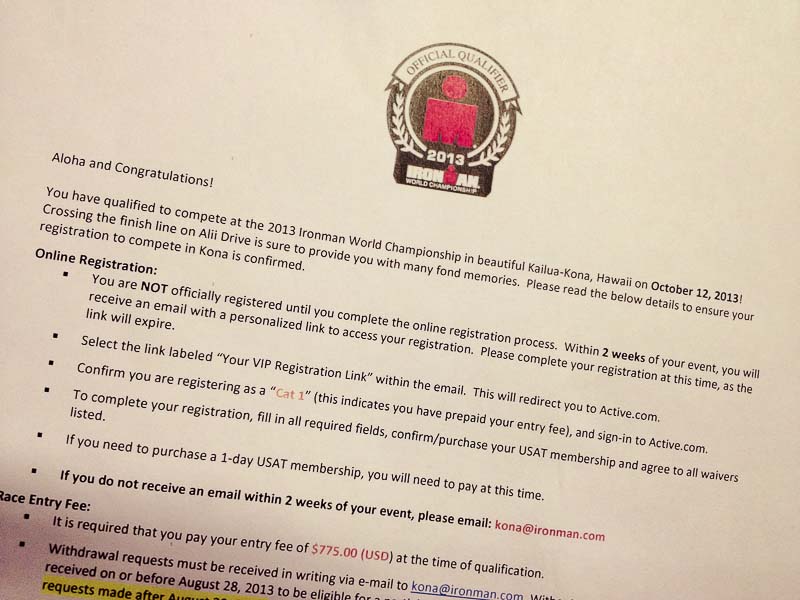 The letter everyone wants to see.
Well, I handed over the money, was presented with my official qualification letter and given a (fake) flower lei which I proudly wore for the rest of the day.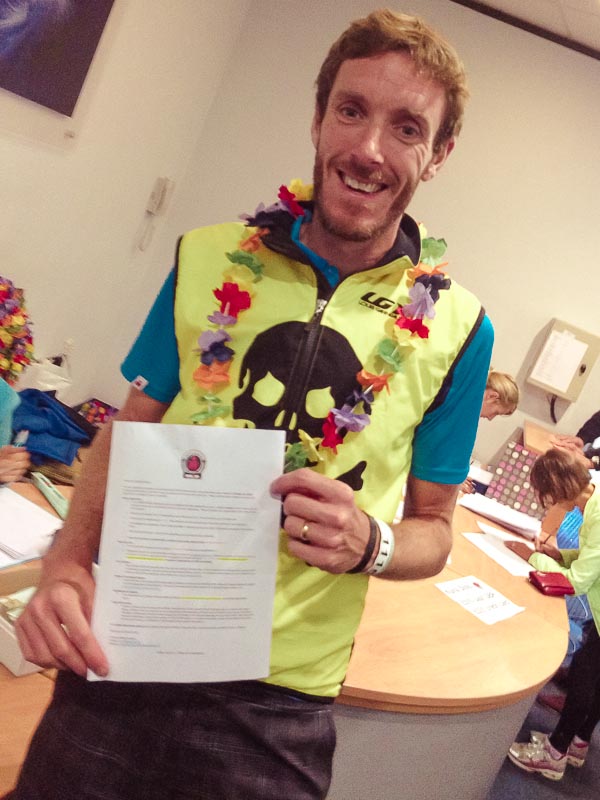 I'm going to Kona.
We headed to the awards ceremony, grabbed ourselves a big 'pirate' table and ate, drank, chatted, watched, cheered and celebrated people either getting Kona slots in the rolldown process (if a highlighted finisher doesn't want to go to Hawaii then their 'slot' rolls down to the next person in their category, and so on) and also the prizewinners.
I was called up on stage for the 40-44 age group (male and female) and was presented with a huge M-Dot trophy and a pair of sunglasses for coming first. It was amazing. I remember being really excited when I finished second vet in the Worthing Triathlon a few weeks ago. This is in a different league altogether.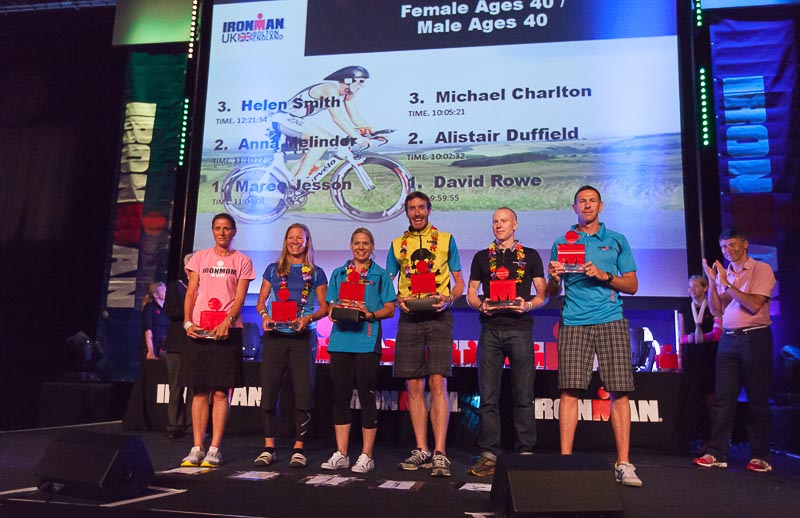 Sharon also got a photo of the pirate winners from the race - the three of us (Jo, myself and Elaine) accepted our Kona slots and we're off to the big island in a few weeks time.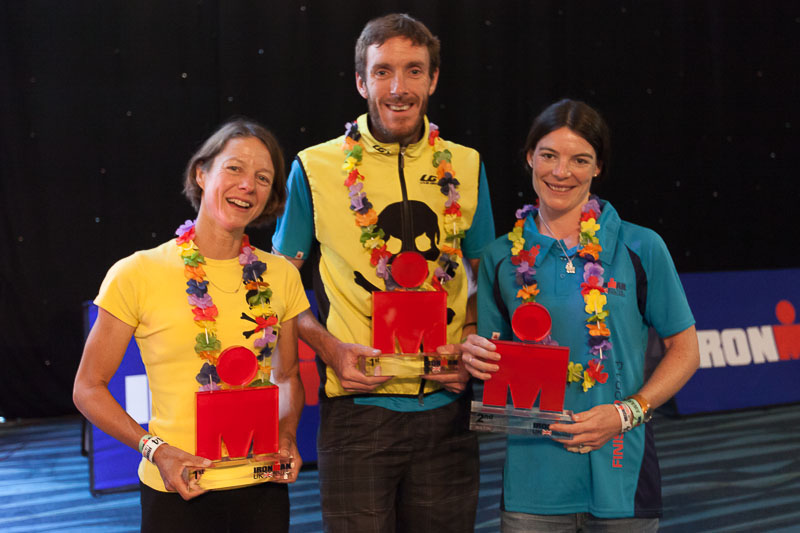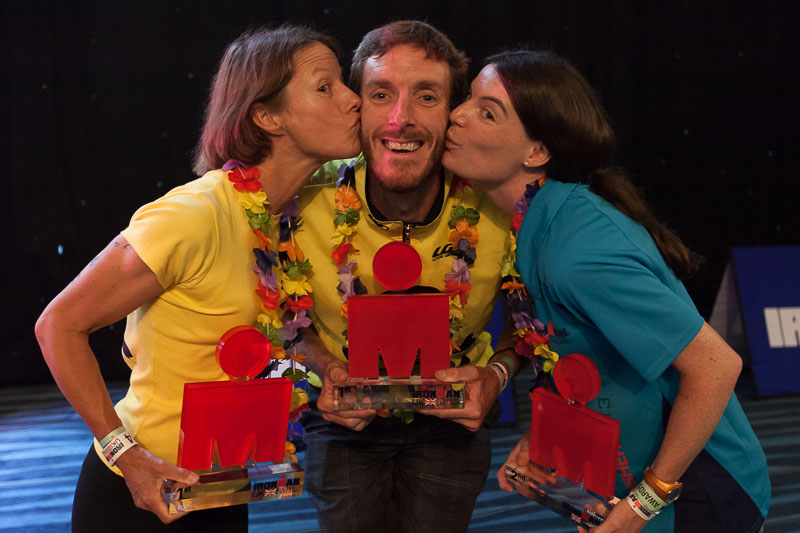 Before I end this I wanted to just mention my training… I'm not coached. I wouldn't even call myself 'self coached' as I don't follow a schedule. I just swim bike and run a bit, and increase the volume and intensity in the build up to races.
My job is flexible in that I'm able to often get a long ride in during the week, but I also chose to do this because on Saturdays I run the local 5k parkrun and drink coffee and chat for hours afterwards. Saturday's are normally a bit of a 'rest day' for me. When I'm working in London I am often able to cycle in (on my heavy old mountain bike as I think this is better for me than a lightweight racing bike) and I sometimes run into work (nice to occasionally get a half marathon in before the day begins). Swimming, well… I do a bit, not enough and I do sometimes train with the lovely SwimSmooth squad in Richmond.
Before you think it all sounds cushy, I'm putting in the hours don't get me wrong. Since 1st January this year I've averaged just under 14 and a half hours of exercise (swim, bike, run) each and every week. I've managed a couple of weeks just over 22 hours (one of those was on holiday in Lanzarote at the end of April). Clearly my cycling has been getting better this year and I've averaged just over 150 miles each week this year so far. Run mileage has averaged just over 25 miles a week. Anyway, enough about my training.
Since getting into Ironman triathlon I've always wanted to go to Kona. Swim to the Coffee's of Hawaii boat, sit by the pier, have food and drink at Lava Java and Huggos, take in the sights at Dig Me beach. Cycle on the Queen K. Run up (and down Palani Hill) and Ali'i Drive. All of these things and much much more. It is going to happen. And in only a matter of weeks. I honestly cannot believe it.
I'm now rushing around getting things sorted - accommodation, flights etc. Good job I'm not back to full on training yet. That can wait a few more days…
Expect to read plenty more about the trip to Hawaii and what we're up to when we're there in the lead up to the race.
Finally I have to thank Sharon who's be oh so supportive with me and my silly little hobby over the past weeks, months and years. The amount of times that we've been to places in the car with my bike in the back! Knowing that I don't have to earn 'brownie points' before wanting to go and train and that training is 'my time' and not 'family time' and should be frowned upon just doesn't happen in our house. She supports my training and racing and wants me to be the best I can. It makes things so much easier.
Oh and did I mention, we're off to Kona baby!