So, I am home alone as I write this and feeling like a TriWidow ;) It's got me thinking. Am I a TriWife (or TriWaife as I just typed! Hah! I wish) or a TriWidow. This is written from my wifely perspective and yes, I know that there are TriHusbands out there too.
I see lots of wives at races wearing, "Widow of Ironman in Training" or somesuch phrase on their hoodie. I've never felt that way. I don't know if it's because I have been known to do a bit of running, so understand how important it is to train. I don't know if it's because I am a total saddo and essentially have devoted my life to looking after David. I don't know if it's because I love feeling a part of something that I could never do (not indeed want to, before anyone says, "of course you can"!).
I don't know why. All I know is that it's really *really* important to me to look after David in the best way that I know how, so that he can race as well as he is able. Mostly that means making sure he has good food, has clean kit ready when he needs it, that I don't moan when he is getting ready to go out training, nor indeed make him earn Brownie Points to be able to go out training in the first place! I also appreciate that we are childless (appreciate in more than one way!) and as such some of our friends are more limited in what they are able to do. I'm not using the "allowed" word. It also means that we took the decision that if he didn't need to work full time, then he wouldn't. It's lovely that he can go on a long ride on a day I am at work, so that on my days off, we can spend time together - this is so important to me (and to him too, I hope). We are very very lucky that we don't need to work full time, it helps a lot.
I also know that I have been to some amazing places to see him race. You can't beat the IronLife for travelling opportunities. A holiday with a race in the middle? Yes please. And yes, before I get told off again, I do realise how lucky we are that we can do it. Again though, it's lifestyle choices, we don't go gallivanting to posh restaurants, I don't spend hundreds of pounds on designer handbags, we are sensible in our living. I must say I took great delight in saving up for David's 40th Birthday pressie - his lovely Cervelo P2 bike. Watching him race on it at IMUK was fabulous. He looked so happy and comfortable - worth every penny.
Mostly I love how triathlon has turned David into someone that I now really need no excuse to be proud of! Before I met him, he windsurfed competitively - I never saw that but I do see him leap on a board on holiday, whizz off and people say, "Wow, he's good". I also feel proud that somehow he decided that out of all the women in the world, he picked me to be with. I don't know how that happened either but blimey am I glad he did - it's just about 22 years to the day since we first met on the second day of University. I will never feel good enough to be married to him (no comments about this needed, it's how I feel, it won't change) - and I think that's actually at the crux of why I am a TriWife. I love looking after him, it helps me feel part of it all and doing anything within my capabilities to make sure everything is right is what I love doing most. Of course, sometimes things are out of my control and that is very difficult for me to deal with.
So, my very own Ironman is already in Hawaii. Apparently he's "lucky he's allowed to go early". Hmmmm. If he can and we can afford it, why not? He wants to soak it all up. We might never go again. It could be our one outing to the Ironman World Championship. He has dreamed of this - as have I (but for different reasons!). I have dreamed of it mostly because it makes me literally burst with pride at telling people he has qualified, I love a bit of boasting on his behalf - I just can't help myself.
TriWife or TriWidow? In the Rowe Household, it's definitely TriWife all the way. If you think you are a TriWidow, change it. Get involved. Stand on that finish at his next race. Greet him with a big smile and open arms when he comes home knackered from a six hour ride. Bring him his favourite smoothie in the bath - and make him have a nap so he might actually want to talk to you later rather than being a Sofa Zombie. Embrace the life, you never know where it might take you. It's awesome being a TriWife, I wouldn't change it for anything.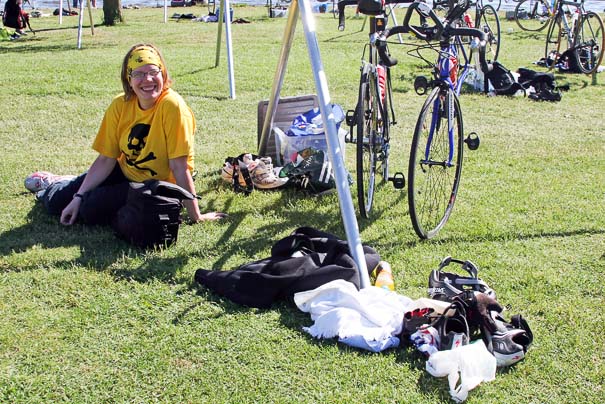 Supporting at the 2008 Bala middle distance triathlon in Wales.