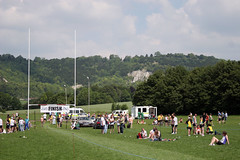 Extremely warm weather awaited the competitors taking part in the Dorking 10 (mile) road running race today (Sunday). After a busy day on Saturday (BPTT - which I ran harder than I should have), and then a visit to the Epsom Derby to celebrate Kirsty's birthday, we awoke bright and early (6:15am) and got ourselves ready. The usual checklist was ticked off (sports drink, running number, club vests, watches, bananas, suncream, more suncream) and away we went.
The start of the race in Brockham village was extremely picturesque and this wasn't limited to just the start. Around just about every corner was a cracking view - real picture postcard potential all the way round. OK, the weather certainly helped but I really enjoyed running this course.
There were a few hills to be tackled, but nothing too taxing if you ran steady and paced yourself - especially important in the heat. The roads were really quiet, although I did have to slow down a bit at one point when following a car going up a hill. Apart from that one incident cars were not a problem in the slightest.
I wasn't particularly geared up for this race, and had no expectations. My previous personal best over 10 miles was 67:36 at the Thames Towpath 10 in mid April. As I knew today's was a hilly course I'd said to myself that 69:59 would be excellent and I'd be very happy to come in under 75 minutes.
I won't talk much about the race but let's just said I ran fairly hard, but not excessively, as I had no idea what hill was around the next corner. The only tough one to be honest was between between 8 and 9 miles, which understandably was my slowest mile split. I kept strong up this one and managed to creep past one or two runners.
My final finishing time was 68:29, and position wise I was 83rd out of 600 finishers. My watch had the time down as a few seconds quicker (as it took a few seconds to get over the start line). I'm really happy with this especially off of the back of a sub 19 minute 5k the previous day. I was also fourth Ranelagh Harrier finisher which I'm extremely pleased about, as we had 18 of us from the club running.
For those interested in the stats (probably just Kieren ;), my average heart rate was 170bpm (maximum 185), and my mile splits were as follows: (1)6:32, (2)6:46, (3)6:48, (4)6:52, (5)7:00, (6)6:55, (7)6:47, (8)7:03, (9)7:07, (10)6:36. This was an average pace of 6 minutes 51 per mile.
Comparing to the (flat) Towpath 10 a few weeks ago I was about 50 seconds slower today. Oh, and my heart rate averaged at 174bpm back then. I know I could have pushed harder but that was never my intention today. All I wanted to do was run well and I believe I did.
Sharon will probably post more later about her run but for now I'll leave you with this…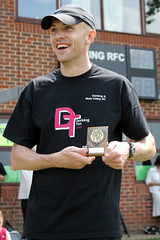 …at the prize giving it was great to see good friend Danny collect a prize for 1st male in his age group (17-29 years), and also third in the team prize. He came 12th overall with a time of 58:39. Well done mate.
A selection of photos can be found at Sharon's photo gallery.